WhatsApp users could soon have a new way to listen to voice messages. In fact, they might not need to listen to them at all.
That's because WhatsApp is now testing a feature that lets people have their voice messages transcribed for them on-the-fly, so they can still learn what was being said without having to listen to the message itself. That could be a huge deal for people who work somewhere they can't easily listen or simply wouldn't be able to hear for whatever reason.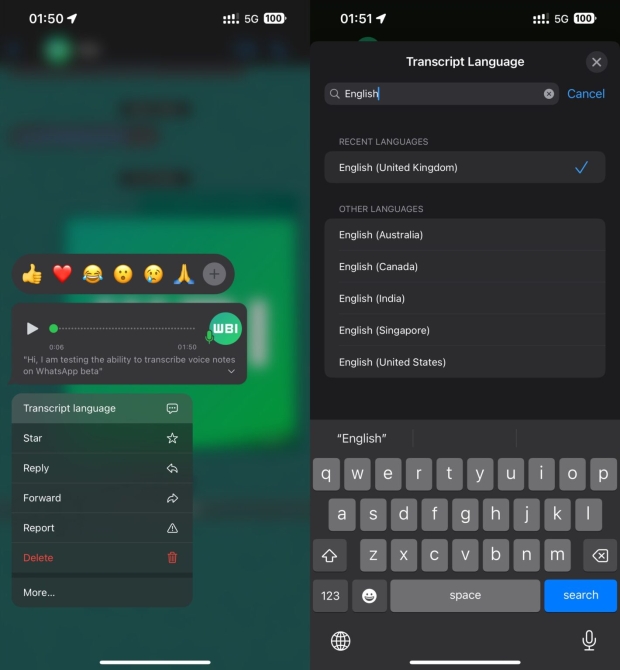 The new feature isn't yet available to the public but the beta watchers at WABetaInfo say that it is now in the hands of beta testers who have the latest WhatsApp TestFlight version installed. However, it isn't yet available to everyone and it appears to be limited to specific accounts.
The feature itself is available as an option when the voice message is selected and allows people to translate their audio locally. That means that there is nothing handled on WhatsApp's servers in the name of privacy. However, that does mean that the new voice transcription feature will only be available to those who have iOS 16 or later installed. That's because iOS 16 added the APIs required for voice messages to be transcribed locally.
On top of the voice being transcribed so that it can be read, WABetaInfo reports that it is also indexed which in turn makes it searchable. Searching for text will see it automatically highlighted so that it can be more easily found.
WABetaInfo notes that while transcription will be enabled by default, users will still have the option of disabling it later if they want to. A new option will be made available in WhatsApps chat settings that will disable Voice Message Transcripts to give users more peace of mind in case there could be content they don't want to be transcribed.
There is currently no telling when this particular new feature will be available to the public, but there will still be a little white at least. WhatsApp needs to roll the feature out to more beta testers before it is ready for primetime which could take a little while, especially if issues are discovered during testing.
WhatsApp has become one of the most popular instant messaging platforms on the planet and is a good way for people to stay in touch when iMessages and RCS messages aren't an option - like when iPhone owners want to talk to Android owners, for example.