Windows 11 just had a new preview build drop that comes with some beneficial changes on the power front for laptops.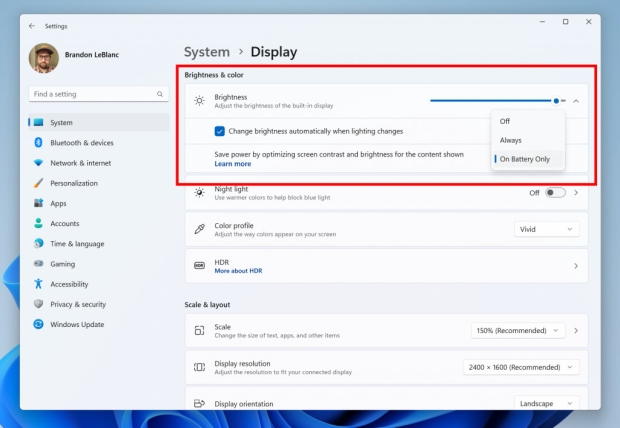 Preview build 25346 landed in the Canary channel and came with fresh work on an existing feature, Content Adaptive Brightness Control (CABC).
This intelligently adjusts the brightness of your display according to the content being shown, allowing for dimming some areas and therefore saving a bit of power (it all adds up over time).
Now with build 25346 Microsoft has made it so that CABC works when you're sitting at your desk working (or playing) with a laptop or 2-in-1 device that's plugged into the mains.
The idea is that any dimming of the screen won't be noticeable, but hopefully savings to your utility bills will (eventually, in the longer run). While this feature is particularly useful for preserving laptop battery when on the go, it's still handy to have it operational when a notebook is plugged in, too.
Extending laptop battery life is very much the aim with a further move in build 25346, courtesy of some fresh settings for those with an HDR display.
If you dive into Settings > System > Display > HDR, there are now options to turn off HDR completely when your laptop is running on battery power, or you can choose to switch off HDR video streaming.
That could be useful in situations where you're thinking battery life is a priority, and you can live without the extra shininess of HDR.
Other changes in preview build 25346 include new privacy settings for the presence sensor, which can be used to block apps from accessing the feature if you prefer. That's only for devices with presence sensors, naturally, which are carried by a number of contemporary laptops now. (Presence sensing turns off or wakes the portable when you leave or return to it respectively, a pretty cool feature).
Keen Windows preview watchers may recall that this ability has already been seen in the Beta channel (last week), but it's now in Canary, too.
In other recent Windows 11 news, a hidden feature has also been spotted that improves multitasking on the desktop with AI.