The ASUS ROG Ally is a gaming handheld running Windows 11, launching soon. However, we still don't have official word on the underlying hardware and specs apart from ASUS stating that it will feature the "fastest" AMD APU built on a custom 4nm process with Zen 4 and RDNA 3 architecture.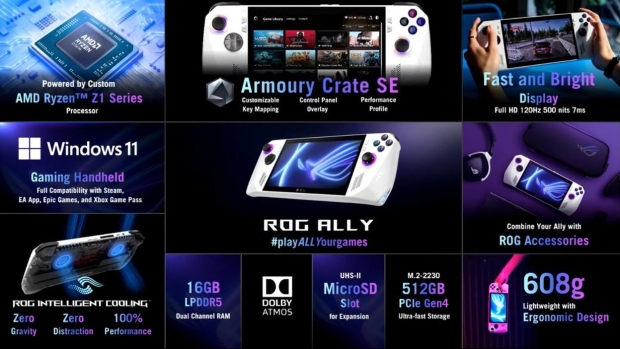 But, as with hardware mysteries, we have more info from two sources. One is a marketing image outlining the capabilities and broad specs of the ROG Ally handheld. The other is a shipping manifest calling out a specific Ryzen hardware as part of the "Handheld Console PC." Namely the Ryzen 7 7840U.
The marketing slide mentions a custom AMD Ryzen Z1 Series processor, which could be the Ryzen 7 7840U with modifications and specific custom features. Either way, the ROG Ally will ship with an AMD Phoenix APU, which can deliver double the in-game performance of Valve's Steam Deck with improved power efficiency.
The shipping manifest lists the Ryzen 7 7840U with a 3.3 GHz clock speed and 780M 12CU RDNA 3 graphics. The manifest and the slide confirm 16GB of LPDDR5 memory, with the latter confirming that the ROG Ally will ship with a 512GB M.2-2230 PCIe Gen4 SSD.
The ROG Ally sleuthing doesn't stop there as listings for multiple models; the RC71L and RC71X have also popped up on ASUS and FCC sites. This points to multiple models with different memory or storage configurations or something else entirely, like different color variations.
We know a lot about the ROG Ally, with ASUS revealing specs like its Full HD (1080p) display with a 120 Hz refresh rate, peak brightness of 500 Nits, and dimensions of 280mm x 133mm x 39mm. Plus, a weight of 608 grams would make it smaller and lighter than the Steam Deck.
With ASUS stating that the launch is happening soon, we expect to get full details and pricing for the ROG Ally in the coming weeks.