ASUS has announced a pair of new ProArt GeForce RTX 4080 and 4070 Ti graphics cards for creators with a sleek, compact 2.5-slot design and 300mm length. With the launch of both the RTX 4080 and RTX 4070 Ti seeing several partner models, including those from ASUS, with 3-slot and larger thicknesses - these new ProArt models offer compatibility with more cases.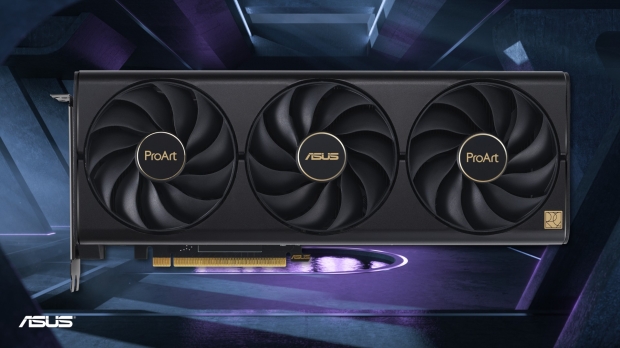 ASUS notes that these GPUs have been created with creators and professionals in mind, so the 2.5-slot thickness means you'll still have access to a secondary PCIe x16 slot on a motherboard - something creators are more likely to look for when it comes to a GPU. ASUS notes that the 300mm length also makes them two of the shortest RTX 40 Series graphics cards on the market.
If you're wondering if the smaller physical real estate will affect cooling, ProArt GeForce RTX 4080 and 4070 Ti graphics cards have been "tuned for quiet operation." They feature three Axial-tech fans with dual ball bearings and can be further tweaked via ASUS's intuitive GPU Tweak III app. Like other GeForce RTX 40 Series cards, these new ProArt models feature 0dB tech where the fans will spin down completely for silent operation during light workloads.
As GPUs for creators, the look of the ProArt GeForce RTX 4080 and 4070 Ti graphics cards is minimal, with black and some gold flourishes without any sort of RGB action. Compared to the ROG Strix and TUF Gaming line-ups, you're looking at smaller heatsinks though ASUS notes that those GPUs are designed for "circumstances where space isn't an issue."
The ProArt GeForce RTX 4080 and RTX 4070 Ti also come with a stainless steel bracket and protective backplate, with the cards assembled using ASUS's automated manufacturing process. And finally, as GPUs for creators, both cards arrive with a three-month subscription to Adobe Creative Cloud. Plus, all the benefits from NVIDIA Studio drivers.