Regulators like the Federal Trade Commission and the Competition and Markets Authority have excluded Nintendo from the Big 3. Here's why these agencies are ignoring one of the biggest video games companies on the planet.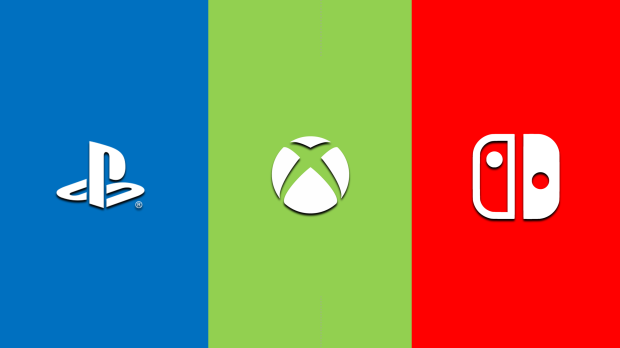 In an effort to better understand the world's largest entertainment market and to better frame the $68.7 billion Microsoft-Activision merger, worldwide antitrust regulators have sifted through millions of documents from video games companies like Microsoft, Activision, Sony, and even Nintendo. This long, arduous process has led to regulators like the FTC in the United States and the CMA in the United Kingdom to simplify things wherever possible. One of the most controversial ways these agencies have done so is to effectively ignore Nintendo's presence in the Big 3 triumvirate of the console market.
The FTC in particular went above and beyond by creating a High-Performance Console market designation that notably excludes Nintendo.
Here's how the Federal Trade Commission defines the High-Performance Console market in its complaint filing from earlier this year:
High-Performance Consoles are a Relevant Market for evaluating the likely competitive effects of the Proposed Acquisition.

The only High-Performance Consoles offered for sale today are the most recent generation of Microsoft Xbox and Sony PlayStation consoles-the Xbox Series X|S and the PS5. The Xbox Series X|S and PS5 are therefore included within the Relevant Market.

The third major gaming console available today, the Nintendo Switch, is highly differentiated from the Xbox and PlayStation consoles in significant ways. The Nintendo Switch, therefore, is not included in the Relevant Market.
The CMA has also followed the FTC's lead, but the CMA did not go so far as to create its own relevant market that excludes Nintendo.
So...why did the FTC do this, and why did the CMA follow suit? There's a few reasons.
Regulators have determined that PlayStation and Xbox compete more closely with each other than either one competes with Nintendo. I somewhat agree with this assessment and I have also determined this to be mostly true in regards to business operations, content library, and other similarities. On a technical level, it makes sense that regulators would isolate PlayStation vs Xbox and leave Nintendo on the sidelines.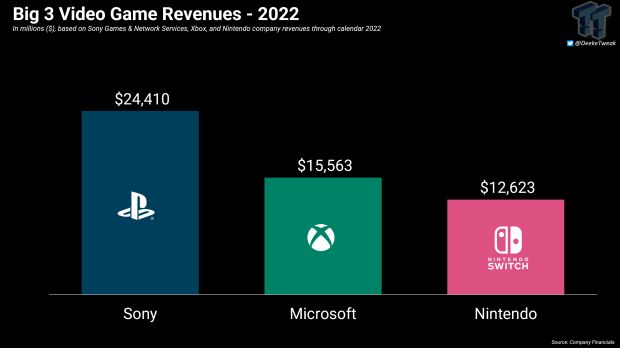 Revenue-wise, Xbox and Nintendo are close competitors. For example, Microsoft made $15.56 billion from Xbox gaming in 2022, compared to Nintendo's $12.62 billion in revenues. The difference between Xbox and Nintendo revenues for 2022 was about $2.9 billion, whereas the gap between Xbox and PlayStation was a stark $8.8 billion.
But when it comes to execution of business operations, PlayStation and Xbox are closer competitors.
Before we go over the major differences that have led regulators to this narrowed market, we should take a look at the similarities between the Big 3.
Fundamentally, PlayStation, Xbox, and Nintendo all want to do the same thing: Sell games, hardware, and recurring digital subscriptions and services to make a profit.
The reality is that all of the Big 3 players (PlayStation, Xbox, and Nintendo) have similar core business models. Ever member of the trio has a distinct platform that merges hardware with hosted digital content. All of the Big 3 sell games, sell consoles and/or handhelds, have their own online digital ecosystems complete with storefronts, services, and content, and all three have multi-game subscriptions.
Execution is where the Big 3 differ the most.
PlayStation & Xbox
First, let's take a look at Sony, the console market leader. Sony is currently in the top spot for a number of reasons, but the chief one stems all the way back to 2013 when Microsoft's Xbox One suffered a big PR fiasco. Microsoft's console presence has not fully recovered since that fracture point, however it was this PR kerfuffle that led to a radical transformation of the Xbox business that PlayStation would ultimately follow.
Sony kept its lead on the market by producing more consoles, securing lucrative multi-year licensing deals with publishers, and also buying up exclusivity rights and executing controversial "blocking rights" business practices that kept games off of competing platforms like Xbox.
This plan has spiraled upwards in something that Sony Interactive Entertainment CEO Jim Ryan calls a "virtuous cycle" where success begets further success.
Operationally, PlayStation is much more similar to Xbox than it is to Nintendo. The reverse is true, as well: Xbox is more similar to PlayStation than it is to Nintendo.
Here are a few reasons why this is the case: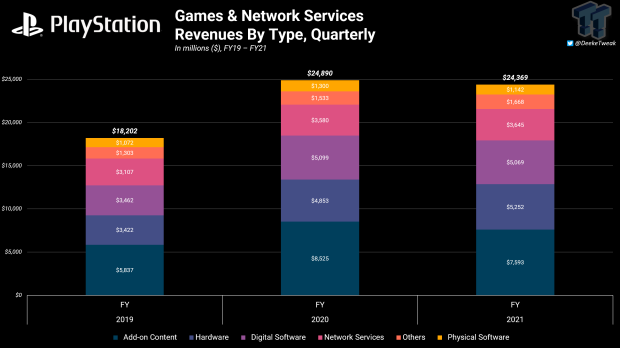 Widespread monetization (microtransactions, in-game purchases) - PlayStation is the largest ecosystem insofar as in-game spending, with the bulk of PlayStation's segment revenues coming from Add-On Content; Sony made nearly $7.6 billion from microtransactions in FY21. Xbox also makes a considerable portion of its yearly revenues from in-game purchases made in F2P and mTX-driven titles.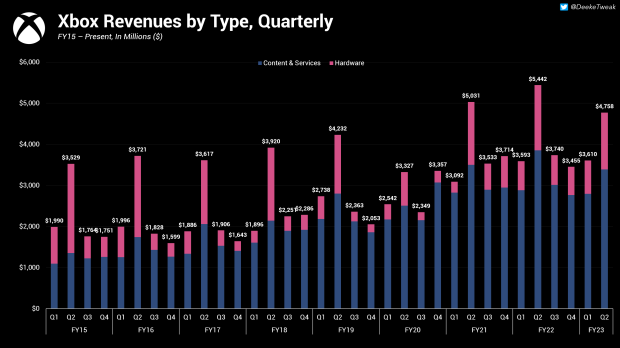 Microsoft also generates billions from microtransactions, and while Microsoft does not isolate Xbox mTX earnings, its Content & Services segment is the main driver for revenues. Microsoft management has repeatedly said that these segment earnings are driven primarily by third-party games and monetization, as well as Game Pass subscriptions.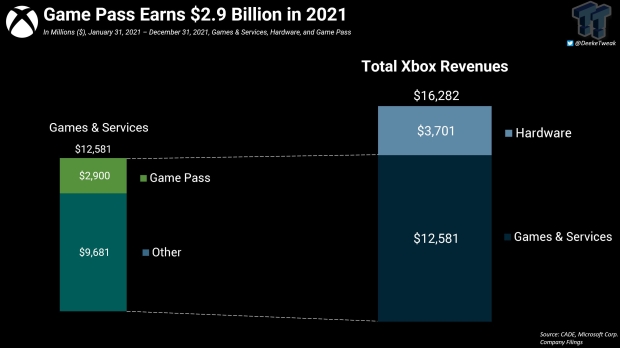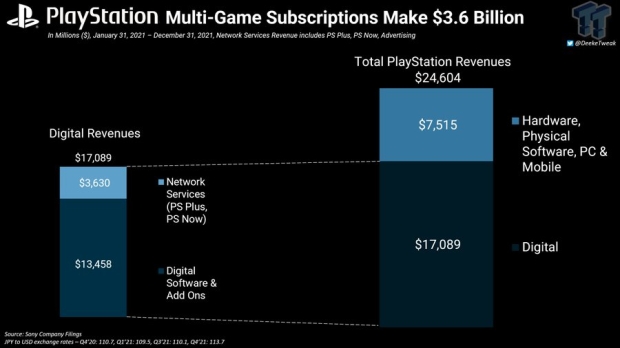 Emphasis on value-oriented multi-game subscriptions - Sony has adjusted PlayStation Plus to become more like Xbox Game Pass. Sony rolled out a new three-tier PS Plus offering that's very similar to Game Pass, offering hundreds of cross-generational games in an all-you-can-play format. These games are not available on PC in a native format, though. The main goal is to capture subscribers with value propositions, spark retention with a rotating lineup of new content, and then potentially raise prices over time to offset the value costs.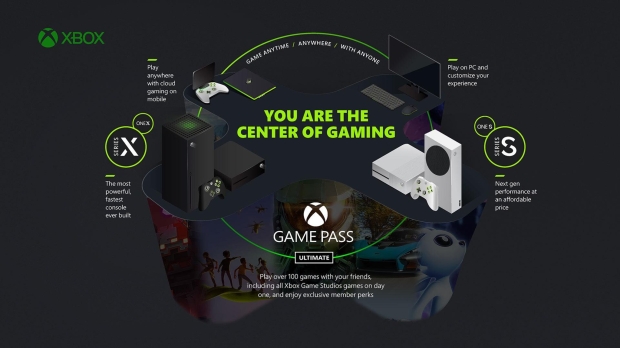 Reliance on strong digital engagement - Subscriptions like Xbox LIVE and PlayStation Plus help drive digital engagement through online multiplayer, which is a big part of both Xbox and PlayStation. The most popular games on these platforms are typically third-party multiplayer games like Call of Duty, Apex Legends, Genshin Impact, and FIFA.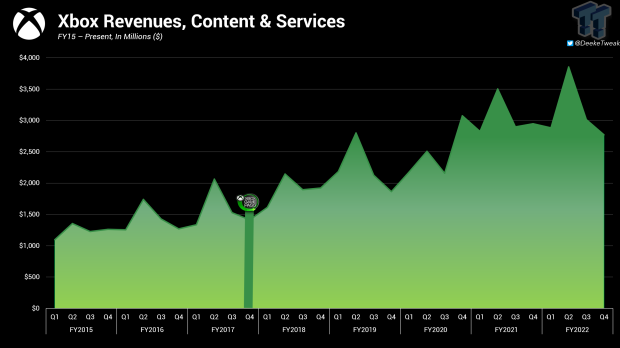 Game Pass has had a significant material impact on Xbox content & services revenues since the subscription was released in 2017, and has tied together Xbox's multi-game subscription and engagement-driven focus in a neat package. Microsoft recently said that it has made nearly $1 billion in subscriptions during the Holiday 2022 period.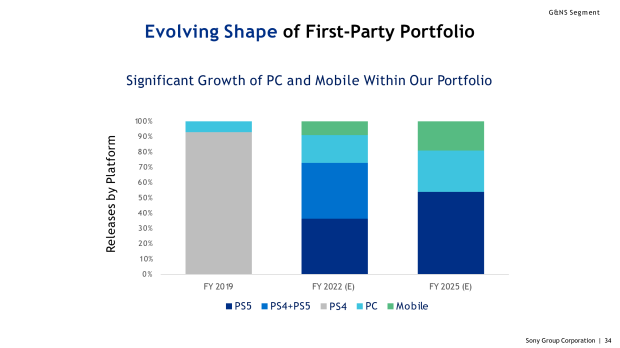 Expansion onto mobile and PC - Both Sony and Microsoft have and/or aspire to release their games on all platforms. Microsoft was the first of the Big 3 to bring first-party games to PC back in the mid 2010s and expanded even further with Xbox Game Pass on PC, followed by Sony, who started to launch its games onto PC more recently. Sony has confirmed that new first-party live service games will launch simultaneously on PC and PS5, and that more titles will also come to mobile. Microsoft wants to use its Activision merger to build a mighty mobile marketplace for its games. Nintendo, on the other hand, has mostly dropped mobile and has no plans to bring its games to PC.
Games library - Both PlayStation and Xbox share a similar games library that prioritizes action, graphics, and more mature themes. Nintendo does indeed have mature games, however Nintendo's first-party games are more geared towards children and families.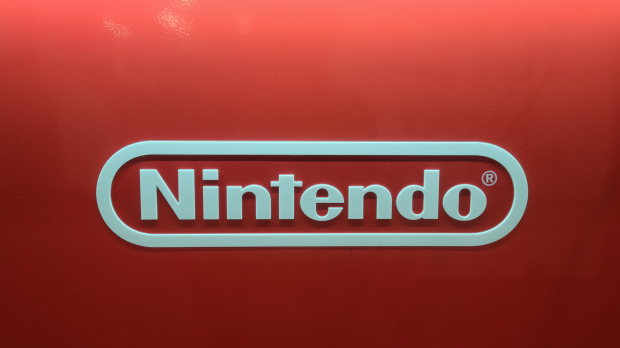 Nintendo Switch
Nintendo, on the other hand, marches to the beat of its own drum. Here's a few reasons why Nintendo is different enough than PlayStation and Xbox to warrant a more narrow market definition: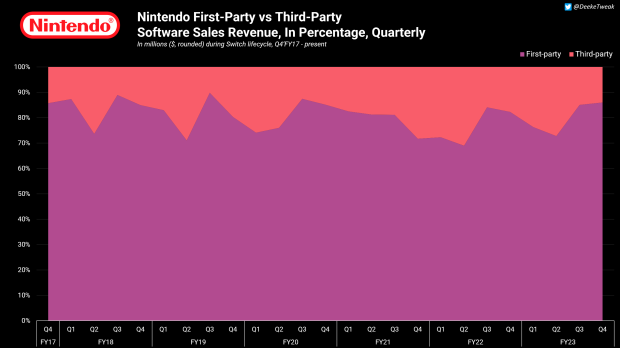 Nintendo Sells More First-Party Games - Unlike PlayStation or Xbox, Nintendo makes most of its software revenues from first-party games. Consumers come to Nintendo to play first-party Nintendo games, which are indeed exclusive entirely to the Nintendo ecosystem.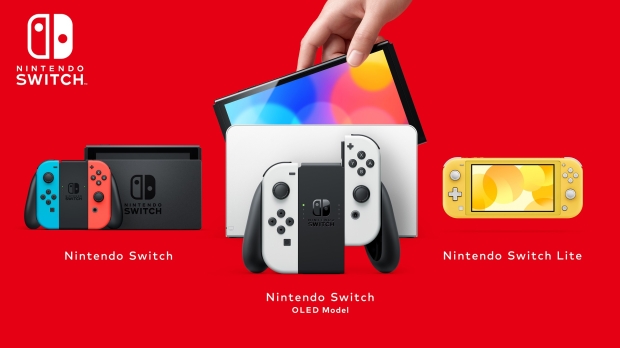 Hardware - This is the biggest distinction point among the Big 3. The Nintendo Switch is an innovative piece of hardware that merges two of Nintendo's greatest strengths into one: Handheld and console gaming. Nintendo has had market dominance in the handheld market for many years, leading competitors like Sony to drop out entirely. Nintendo hardware is often risky and unique, however the Switch is the safest bet--it's also weaker than other platforms, so it's not included in the High-Performance Console Relevant Market designated by the FTC.
Switch Was Always Sold at a Profit - Unlike the PlayStation 4, Xbox One, or the newer PS5 and Xbox Series X/S consoles, the Nintendo Switch was profitable on day one. This allowed Nintendo to reinvest into its games and product ecosystem at a potentially more efficient rate than its competitors.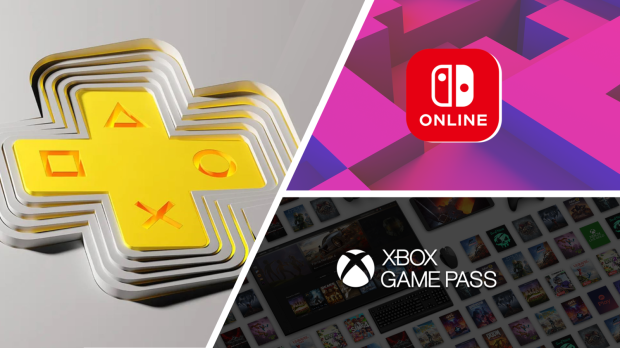 Different Approach to Multi-Game Subscriptions - Nintendo Switch Online, which has about 36 million subscribers as of December 2022, is indeed value-oriented service but it does not include new modern games. Instead, Switch Online differentiates itself from its competitors by offering nostalgic classics from its older systems (and even the SEGA Genesis, too). Nintendo has phased out its popular Virtual Console storefront and instead moved to a lease-to-play model, moving its classic games over to Switch Online.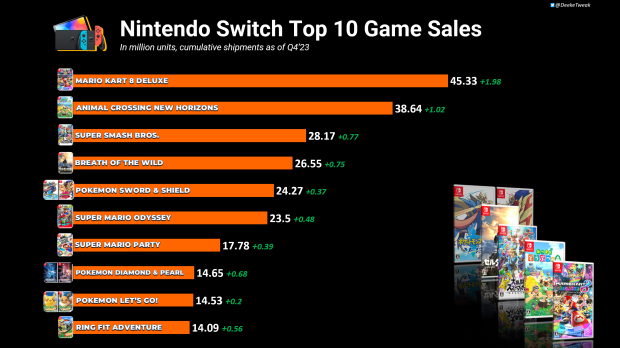 Best-Sellers are Family-Oriented Games - This goes along with first-party game sales, but the top-selling games on the Nintendo Switch are, you guessed it, heavy-hitting Nintendo games. Nintendo's top 5 lineup includes Mario Kart 8 Deluxe (over 53 million copies), Animal Crossing New Horizons (42 million), Super Smash Bros. Ultimate (31 million), Zelda Breath of the Wild (29 million), and Pokemon Sword & Shield (25 million). Conversely, the best-selling games on PlayStation apparently are Call of Duty titles, with Modern Warfare 2 shattering previous PlayStation records, and apparently EA is the #1 publisher on Xbox, indicating that EA Sports games such as FIFA could lead the top spot for Microsoft's games platform.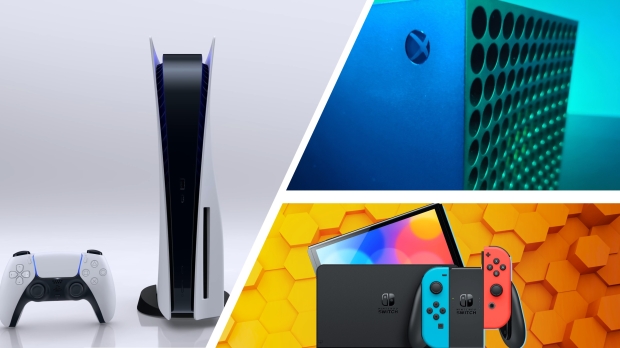 These operational differences between the Big 3 are so great that it's easy to see why regulators have separated Nintendo, PlayStation, and Xbox into different categories, however going so far as to create a new relevant market designation in an attempt to outline anti-competitive effects in a narrowed market has proven to be divise, and, as we'll explore in another article, it has actually lead to confusion in U.S. Congress.
The reality is that based on everything that I have examined, the conclusions of Xbox and PlayStation competing more closely with another than they do with Nintendo seems to be apt and not entirely incorrect. However, it's worth remembering that removing Nintendo from console markets significantly changes that market.
The Gen 9 market is not nearly as matured as that of Gen 8, with Sony's PlayStation 5 only just recently having reached 38 million shipments worldwide. The Xbox Series consoles are expected to be much less than this, but Microsoft has not given actual numbers. Regulators know this, and they've seen the documents, alongside millions more pieces of information that the general public of the press will never get to see.