Microsoft is seeing strong growth in subscription revenues, company CEO Satya Nadella has confirmed.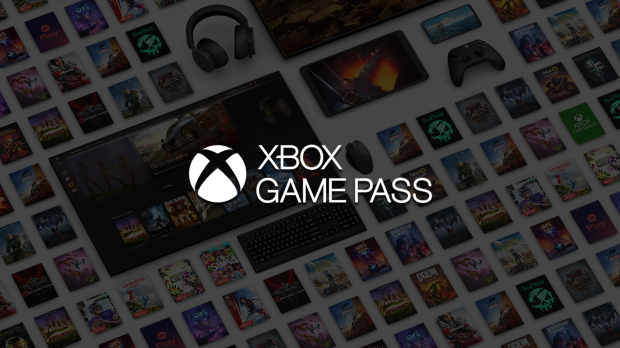 In a recent earnings call, Microsoft CEO Satya Nadella has announced that subscriptions like Xbox Game Pass generated nearly $1 billion in revenues during Microsoft's Q3 period (January - March 2023). Our data indicates that Xbox Game Pass could make up nearly 1/3rd, or around 32%, of total Xbox content and services revenues.
Xbox's content and services segment generated $3.105 billion during the Q3 period, helping offset a significant 30% drop in hardware sales. These metrics reinforce the Xbox brand's focus on subscriptions and content rather than raw hardware and console sales.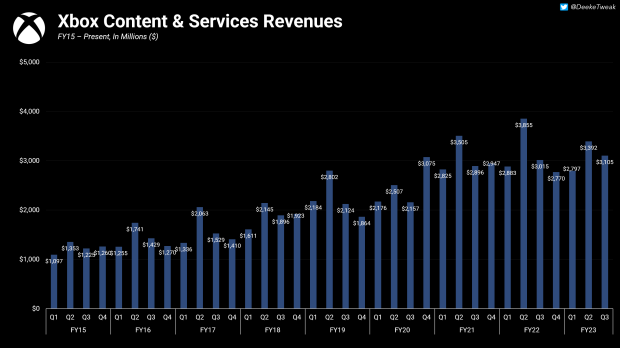 It's worth noting that Nadella's exact words were "subscriptions," and not just Game Pass, so this means that other subscriptions like the standalone EA Play are also included. It's likely that Game Pass made up an overwhelming portion of these earnings.
No exact updates on Xbox Game Pass subscribers were announced, however Sony had previously indicated that Xbox Game Pass had around 29 million subscribers.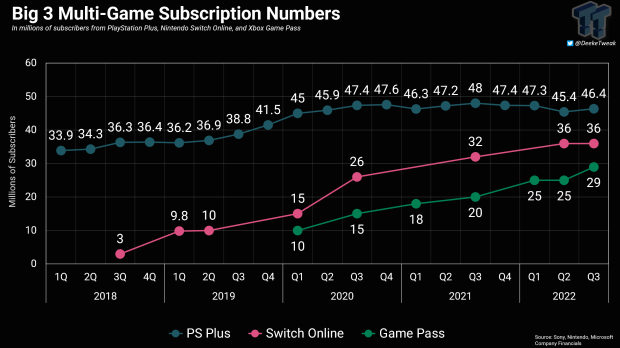 Nadella also mentioned that Xbox managed to deliver 3rd quarter records for both monthly active users and daily active devices, however no numbers or figures were provided on either. Nadella had previously said that Xbox had a whopping 120 million monthly active users, which is presumably across the entire spectrum of Xbox content served across consoles, PCs, and even mobile devices and TVs via direct-streaming delivery.
One surprising metric that Nadella mentioned was that Microsoft has now had over 500 million unique users across its first-party games lineup, likely driven primarily by Xbox Game Pass subscription access.