Google Drive is famous among Android users as a trustworthy backup storage option. Often, Android users store their essential data and media files on Google Drive over the internet to restore them when demanded.
Google Drive also lets users save their WhatsApp chat history and restore it seamlessly in no time. But what if your Android phone is lost, or you want it on your new iPhone? iOS and Android have different operating systems, and you cannot directly transfer your WhatsApp backup to iPhones without using safe and secure third-party software.
Before you go elsewhere, iToolab WatsGo can be your easiest and perfect pick to restore WhatsApp backup on iOS and Android devices. So stay tuned to restore WhatsApp backup from Google Drive to Android and iPhone devices with simple solutions and be in for exclusive features and usage process of iToolab WatsGo to get the job done more simply.
Scenarios Leading to Restore WhatsApp backup From Google Drive
Here are some scenarios that may require you to restore WhatsApp backup from Google Drive on your Android phone or iPhone.
You purchased a new Android mobile phone

Switched from Android to iPhone

Installed WhatsApp on a different mobile phone

A malware or virus attacked the SD card, making it corrupted and erasing your WhatsApp Chat history

Android phone is lost or stolen

Android device is factory reset, and all the data is lost

You accidentally deleted the WhatsApp application from the phone
Easiest and Recommended Way to Restore WhatsApp Backup from Google Drive to iPhone: iToolab WatsGo
iToolab WatsGo - WhatsApp transfer, backup&Restore tool is a powerful software to initiate WhatsApp transfers between Android and iPhone devices at one click. The program simultaneously exports and transfers a wide range of data types with over 40k messages, videos, images, stickers, documents, voices, and different WhatsApp data to a computer. Besides being able to transfer different types of WhatsApp data between iPhone and Android, it can also help you download and restore WhatsApp backup from Google Drive to any iPhone or Android easily.
All you must have is a Google account to get started with this efficient tool instantly. iToolab WatsGo lets you check WhatsApp and WhatsApp Business backup time and size. You can select either and download it to your PC at high speed. The software is compatible with instantly restoring WhatsApp chat backups from Google Drive to iPhones and Android devices.
The Prime Features
Easy to use: iToolab WatsGo enables users to transfer WhatsApp or WhatsApp Business data between Android and iPhone with a single click, whether from Android to iPhone, iPhone to Android, Android to Android, or iPhone to iPhone. There are no complex processes, and there is no need to do a factory reset on your iPhone.
Transfers all data: iToolab WatsGo transfers over 20 WhatsApp data types in their entirety, such as messages, images, audio, videos, status, contact, call history, docs, links, and more, without any data loss during transfer.
Easy data backup: You can use Export or Backup WhatsApp or WhatsApp Business backup to your computer for free without using Google Drive, iTunes, or iCloud.
History backup: The iToolab WatsGo program saves backup history records and restores WhatsApp backups to any device at any time. It even displays all backups from the history list to view the data backed up to WhatsApp.
High Speed: The program's fluent transfer speed is 3x faster (approx 1.5GB WhatsApp backup) than other tools and transfers data without any interruptions.
Compatibility: iToolab WatsGo supports the most recent iPhone 14 series and the latest iOS 16 and is compatible with over 6000 Android brands and the Android 12 and 13 operating systems.
Most effective: Transfer WhatsApp to new phones with a high success rate without leaving any original info on your previous devices.
Step-by-Step Guide to Restore WhatsApp Backup from Google Drive Via iToolab WatsGo
Step 1: Download and install the iToolab WasGo tool on your computer. After launching the program, open and click the Restore WhatsApp Backup from Google Drive option at the lower right corner.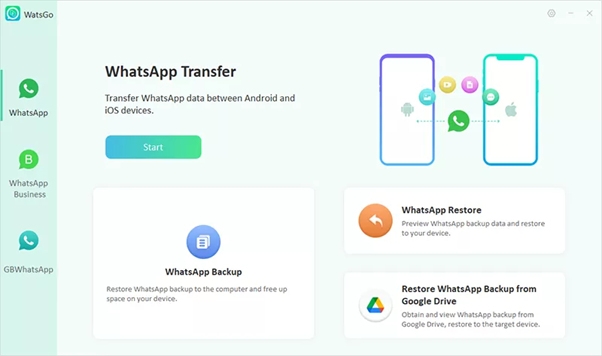 Step 2: Enter your Email ID or phone and log in to your Google Account having the backed-up WhatsApp chats. The WatsGo software will automatically show all the backup history linked with this account.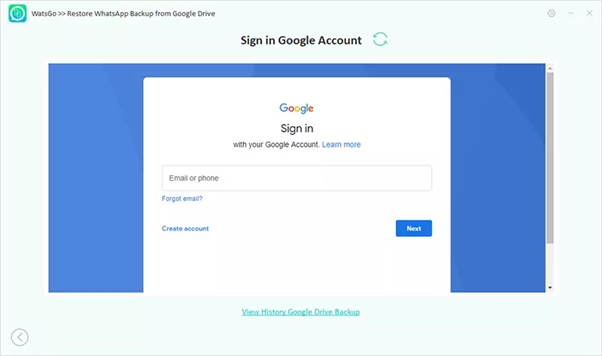 Step 3: Click WhatsApp Backup to extract and restore the chats safely. The process won't take longer than 10 minutes to download and restore on your PC successfully.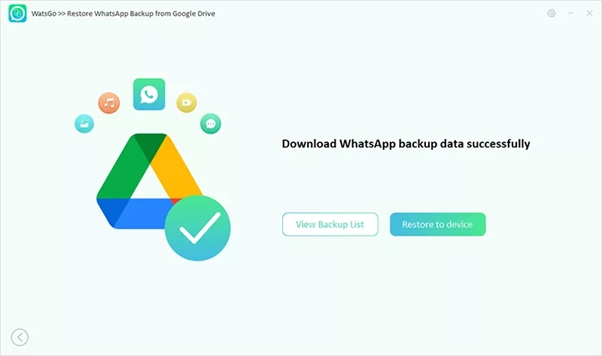 Step 4: Once the data is downloaded to your computer, click the Restore to device tab and connect your mobile phone (Android or iPhone) to the computer system with a USB cable.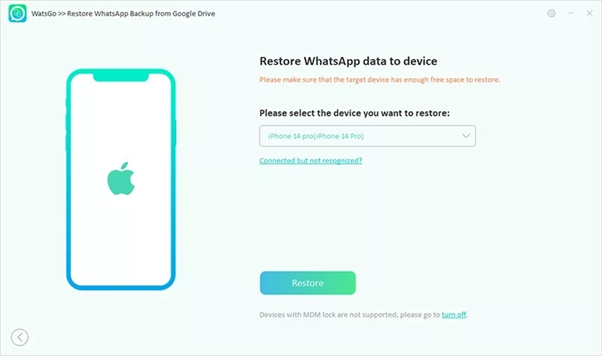 Step 5: That's it. Now the iToolab WatsGo will automatically begin the transfer process. All your WhatsApp messages and media files will transfer to your chosen device within minutes.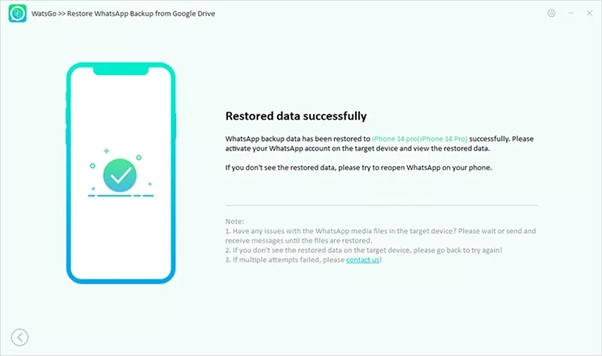 Remember: Ensure your phone has sufficient storage space and remains connected to the PC during the transfer process for complete restoration. Once the process completes, you can disconnect your phone and gain access to your restored WhatsApp chats.
To know more about how to restore WhatsApp backup from Google Drive to iPhone or Android devices, don't forget to check this link.
Restore WhatsApp Backup from Google Drive (Manually)
Google Drive backup comes in handy to restore the backed-up WhatsApp messages. However, before moving with the process, ensure using the same Android phone number and Google account with the target backup messages.
Step 1: Download, install and open WhatsApp on your device. In case the app is already installed on your Android phone, uninstall and install it again and then open it. Once done, verify your mobile number.
Step 2: A prompt will display on the screen asking you to restore your chats and media from Google Drive. Click RESTORE.
Step 3: Once the restoration is successful, click NEXT. Your chats will display automatically after the initialization process is complete.
Step 4: After your chats are restored, WhatsApp will automatically restore your media files.
Restoring WhatsApp chats from Google Drive is pretty straightforward. But if you install the app without any earlier backups from the Drive, WhatsApp will automatically restore the chats and media from your local backup file.
Concluding Thoughts
There are multiple methods to restore WhatsApp backup from Google Drive, and we have assisted you with the easiest and best ones to restore WhatsApp messages on Android and iPhone devices.
However, our most recommended pick is to use iToolab WatsGo, which is super easy to use, even for newcomers. The program assists users with quick WhatsApp transfers and offers to restore WhatsApp backup on Android and iPhone instantly in a few clicks.