In an attempt to cover all the bases and be as thorough as possible, Sony's legal counsel makes controversial new claims on how Microsoft could use Call of Duty to harm the PlayStation brand.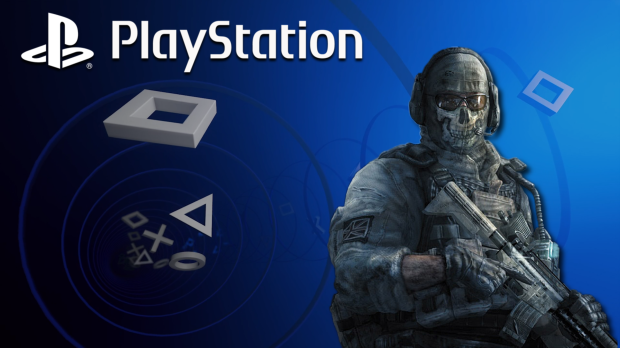 UK anti-trust regulators at the Competition and Markets Authority (CMA) today published two new documents that outline both Sony's and Microsoft's responses to the CMA's proposed merger remedies. The CMA's provisionary findings indicate that the Microsoft-Activision merger could harm competition by partially or fully foreclosing access to Call of Duty in the console and cloud gaming markets.
In Sony Interactive Entertainment's response, Sony lawyers argue that Microsoft could trigger a partial foreclosure strategy--in this case, damaging Call of Duty on PlayStation--by purposefully degrading game performance on PlayStation hardware. In short, Sony creates an unlikely scenario where Microsoft may deliberately and knowingly release an inferior and buggy version of Call of Duty on PlayStation while keeping the better version on Xbox.
Sony argues that the degradation and poor performance could be so bad that PlayStation gamers would switch over to Xbox in order to play Call of Duty.
Page 7 of Sony's response reads: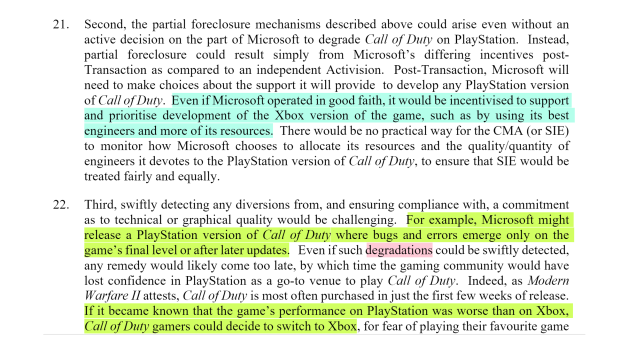 This scenario is counter-intuitive to Microsoft's games business for many reasons.
For one, Microsoft would suffer significant reputational harm if such a bug-filled game were to release. Xbox already has a reputation for its lack of first-party games and it's in Microsoft's best interest to avoid more controversy.
Getting gamers to move from PlayStation to Xbox would not be easy. Microsoft would have to release something as sufficiently bad as the launch version of Cyberpunk 2077 in order to spark such an exodus--Cyberpunk 2077's PS4 performance was so poor that Sony removed the game from the PlayStation Store for many months.
Meanwhile, Microsoft would not only suffer reputational harm as a result of such a scenario, but also commercial harm as well.
While it's possible Microsoft would still enjoy high full game sales at launch of such an inferior Call of Duty product, as Cyberpunk 2077 did on PS4 and Xbox One, the subterfuge would not last and ongoing controversy could disrupt long-term full game sales and monetization. As we know, Call of Duty's main earnings come from in-game purchases that are made across multiple years.
Furthermore, Microsoft willfully degrading Call of Duty would only create more work for its developers in the long term. Teams would be required to fix the game, especially if it were so broken that it could make consumers switch from PlayStation to Xbox. It is implied that this level of inferiority would prompt Sony to remove the Call of Duty game from the PlayStation Store similar to the Cyberpunk 2077 situation until such a time where it were patched, updated, and fixed, thereby creating more work and investment on Microsoft's.
Microsoft would also be required to fix the broken portions of the game in order to offset reputational and commercial harms that result from such a maneuver.
On the other hand, there have been distinct instances where Microsoft has said it wants newly-acquired games to run best on Xbox.
Following its acquisition of ZeniMax for $7.5 billion, Microsoft's Tim Stuart said that Bethesda games will ideally be "first, better, or best" on Xbox platforms. It was understood that Bethesda titles would typically be third-party games that launch on all platforms if the company remained in dependent. Under Microsoft, Bethesda's newest game Starfield will be exclusive to Xbox Series X/S consoles and PC.
"What we'll do in the long run is...We don't have intentions of just pulling all of Bethesda content out of Sony or Nintendo or otherwise. But what we want is that content, in the long run, to be either first, better, best, or pick your differentiated experience, on our platforms," Stuart said in November 2020.
"We will want Bethesda content to show up the best on our platforms."