Elden Ring has now sold 20 million copies worldwide in about a year on the market, putting the RPG up against some of the most popular franchises on the planet.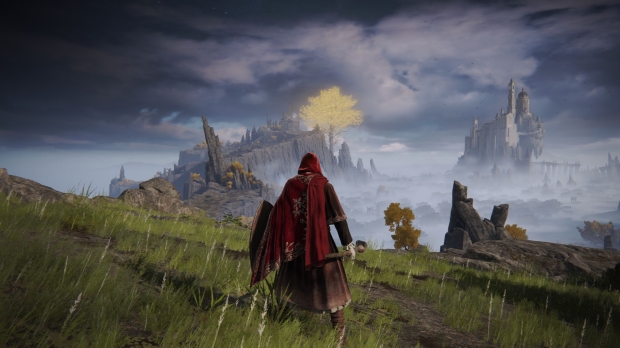 Elden Ring is a monumental sales success. The game has rapidly achieved multi-million sales faster than most titles and has currently hit the 20 million sales milestone as of February 22. Our records show that Bandai Namco and FromSoftware managed to sell 2.5 million copies from Sept 2022 to Feb 2023.
There are few games or franchises that are able to hit these kinds of sales. Nintendo's Animal Crossing New Horizons broke records with its incredible 11 million sales debut in 2020, which led to a staggering 22 million copies sold in just 14 weeks. Another franchise that comes to mind is Call of Duty, which managed to sell 25 million copies across various games in one year.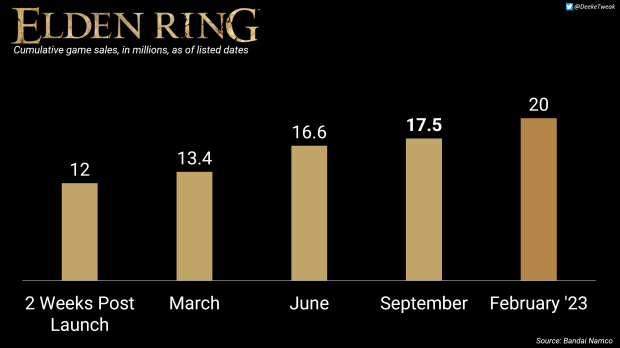 The fact that Elden Ring as a singular release is brushing up against total yearly Call of Duty franchise sales really underlines the RPG's breakout performance.
FromSoftware and Bandai Namco want to keep the sales momentum going, and today announced an official Elden Ring expansion is in development. It's called Shadow of the Erdtree and it could be a prequel that features Miquella.
In other Elden Ring news, FromSoftware parent company the Kadokawa Group has confirmed that the franchise will crossover to transmedia in some way. It's possible that new Elden Ring comics, books, or even TV shows or films are currently being planned.
Kadokawa says that it will "maximize the lifetime value of Elden Ring with a media mix."
Back in March 2022, Bandai Namco also said that Elden Ring is an established IP that will expand over time:
"Please look forward to more of "ELDEN RING" as an IP (characters and other intellectual property) in hopes of expanding beyond the realm of games."