Microsoft is now actively promoting Windows 11 and has stopped digital downloads of the Windows 10 operating system as of January 31, 2023. This means that if you want to buy Windows 10, you'll need to purchase it from third-party channels. How to buy a cheap genuine Windows 10? You can choose GoDeal24, an online platform selling genuine Windows OS, MS Office, and other computer software. GoDeal24 guarantees that every license sold is safe and reliable.
During GoDeal24 Valentine's Day Sale, Windows 10 Pro is priced as low as $6.12/PC! Even though Microsoft no longer sells Windows 10, Windows 10 will continue to receive security updates until October 14, 2025, to protect the user's computer from viruses, spyware, and other malicious software. And Windows 10 also supports a free upgrade to Windows 11!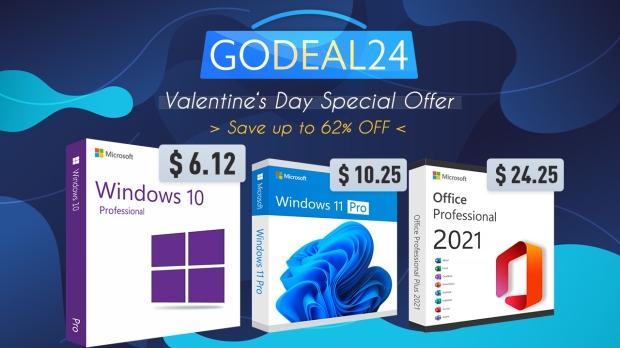 Genuine Windows 10 is as low as $6.12/PC!
Windows 11 has been officially launched on the Microsoft Store with an official price of $199.99. During GoDeal24 Valentine's Day Sale, you can get the genuine Windows 11 Pro for only $10.25. If you buy more than one, you can take advantage of a cost-effective bundle of the Windows 11 Pro 5PC, where Windows 11 Pro is priced as low as $9.79 per PC!
Microsoft is heavily promoting Windows 11 and creating an operating system that blurs the boundaries between cloud and edge, incorporating a large amount of AI technology. The outside world is speculating that this is a hint at Windows 12. With the popularity of ChatGPT, it is possible that OpenAI technology will support system applications like clocks, photos, emails, calendars, cameras, and microphones in Windows 12.
Genuine Windows 11 Pro from $9.79!
Are you looking to increase your productivity with Word, PowerPoint, or Excel but want to avoid paying more? GoDeal24 Valentine's Day Sale has got you covered! Get the latest and fully licensed Office 2021 for just $24.25! GoDeal24 is your one-stop shop for all your software needs. From office tools to enhance efficiency to photo editing software, system management, and security protection - you'll find it all at unbeatable prices! Take advantage of this incredible deal; grab it now!
Hot Sale! Microsoft Office at the Best Price!
62% off on Bundles and more MS Office (coupon code "GOLE62")
MS Office for MAC
Up to 50% off on More Windows! (coupon code " GOLE50")
More PC tools at the Best Price!
At GoDeal24, you can save a lot of time and money with discounted Microsoft licenses, major IT security software, and other computer tools like IOBIT, Ashampoo, Disk Drill, and many more. Get Windows OS and MS Office at an unbeatable price. With GoDeal24, you can rest easy knowing your software is 100% safe and genuine, backed by a lifetime support and update guarantee from Microsoft.
Experience hassle-free shopping with GoDeal24's digital delivery, which sends your software directly to your email within seconds of purchase. Plus, with a TrustPilot 98% Excellent rating and 24/7 expert technical support, you can be confident in the quality of the product you're buying. Don't miss this chance to save up to 90% on the software you need for work or play.
GoDeal24 promises that they offer 24/7 professional technical support and lifetime after-sales service and that you can use the product without problems! Contact GoDeal24: service@godeal24.com