The United States government has claimed that China is lying about its intentions with its mysterious weather balloon that was recently shot down.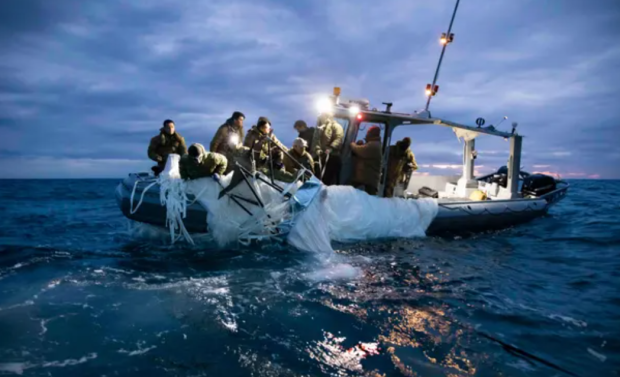 Last week the US government successfully shot down a Chinese weather balloon that was suspected of being capable of gathering data on neighboring American military facilities. American military brought the balloon down on Saturday as it was flying approximately 60,000 feet above sea level six nautical miles off the shore in Myrtle Beach, South Carolina. China responded to the attack on its balloon, claiming that it was caused by a "civilian" accident, and condemned the decision to attack a "civilian unmanned airship by force."
Additionally, China claimed that Beijing "repeatedly" informed the US military that the balloon was entering its airspace and that it was for civilian use only. Furthermore, China vowed that it would respond to the attack, as it believes the threat of the balloon was an "obvious overreaction and a serious violation of international practice".
With that all being said, a week ago, the US has since recovered what was left of the weather and discovered that it was equipped with multiple devices capable of intercepting and geolocating communications. According to a senior state department official that announced on Thursday, the weather balloon equipment was identified by a U-2 spy plane that was sent up to inspect it.
According to the senior state department official, the high-altitude balloon was carrying equipment that was "clearly for intelligence surveillance". Additionally, the US government official said that the weather balloon equipment was inconsistent with typical weather balloons as it had multiple antennas forming an array that was likely capable of collecting and geolocating communications.
Furthermore, the official said the weather balloon was also equipped with solar panels that were large enough for the balloon to carry out multiple intelligence collection operations.
The US claims that this isn't the first time China has used a spy balloon to gather intelligence on a nation, as it has allegedly used the same tactic to gather information on over forty countries. Notably, despite the balloon having intelligence gathering capabilities, the US has said that the balloon did not give China an intelligence collection capability greater than it already can achieve with satellites or any other known method.
Lastly, the assistant secretary of defense for Indo-Pacific security affairs, Ely Ratner, said that the Pentagon has attempted to make contact with the People's Liberation Army (PLA) through various military channels, but to no avail. According to Ratner, the PLA isn't picking up the US military's calls, leading the Biden administration to contemplate implementing sanctions against the parties involved in the balloon, such as its manufacturer, which is a PLA-approved vendor.
If you are interested in reading more about objects that are appearing in North American skies, check out the below links.