The US military announced on Saturday that it detected an unknown object on its radar system moving through airspace close to Montana, sparking officials to close a region of airspace above the state.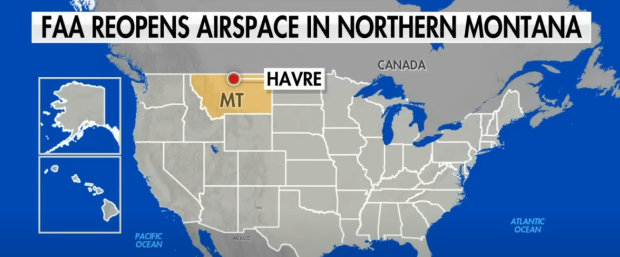 Recently released reports state that US military detected the object, and the North American Aerospace Defense Command (NORAD) sent a fighter aircraft to inspect the area. In response to this radar anomaly, the Federal Aviation Administration (FAA) closed the airspace for the Department of Defense to conduct activities. The closed airspace stretched 50 nautical miles around Harve, Montana, located near the Canadian border.
The FAA issued similar flight restrictions when the US military brought down a Chinese spy balloon that was detected off the coast of South Carolina. Recent reports state that the fighter jet inspected the area where the object was detected and found nothing. NORAD issued a statement and said its aircraft "did not identify any object to correlate to the radar hits. NORAD will continue to monitor the situation." Since no object was found, the FAA has reopened the airspace.
So, was there an object? According to three lawmakers, an unknown object was spotted. Representative Matt Rosendale, a Montana Republican, took to Twitter and said he was in contact with the US military and the closure of airspace was due to "an object that could interfere with commercial air traffic - the DOD will resume efforts to observe and ground the object in the morning."
Additionally, Senator Jon Tester of Montana wrote on Twitter that he was "aware of the object in Montana air space and remained in close contact with senior DOD and Administration officials."
It seems that an object was detected but disappeared before the US aircraft could reach the area. It should also be noted that the same day an unknown object was detected invading Canadian airspace. The Biden administration, along with Canadian Prime Minister Justin Trudeau, announced they authorized the removal of the object. An F-22 fired upon the object, and it was destroyed. The Canadian military is in the process of recovering the wreckage to determine its purpose and place of origin.
Less than 24 hours before the Canadian object, an unknown object was detected in Alaskan airspace. The same command was issued, and an F-22 fighter jet was sent out to bring the object down. The mission was a success, and US military is recovering what's left of the wreckage.
It should be noted that officials close to the Canadian object incident reported that the object was not a balloon and had a more cylindrical shape, much like a cigar. Fighter pilots that flew next to the object reported that it showed no obvious method of propulsion and appeared unmanned. However, not all of the pilots reported the same story. Some claimed the object interfered with their aircraft's sensors, while others didn't.