Boston Dynamics' Atlas robot is one of the most advanced humanoid robots, and if you've seen a clip of it in action over the years, then you'll no doubt have been impressed by how it moves. Now equipped with hands, Boston Dynamics has released a new video of Atlas on a mock construction site as a worker up on a scaffold realizes he's forgotten his tool bag.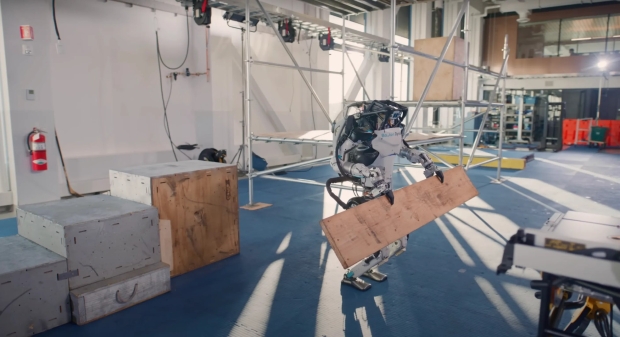 And with that, we cue Atlas to create a little bridge to make its way up the scaffolding, grab the bag, toss it up to the worker, and then perform a gymnast-style backflip as it dismounts back onto ground level.
Check it out.
It's an impressive showing not only in terms of the robotic physicality that is very human-like but in how it solves problems like strategically placing a plank so it can safely make its way up the scaffolding. The next step for Atlas might be to add full climbing abilities now that it's got a sweet pair of powerful robotic hands.
Regarding practicality, it points to a future where robots like Atlas might become common on construction sites performing tasks that may or may not require heavy lifting. Large-scale machinery on a construction site or project is the norm; what this Atlas demonstration showcases is the next step in robotic humanoid workers.
"We're starting to put Atlas to work and think about how the robot should be able to perceive and manipulate objects in its environment while maintaining that characteristic high level of performance," says Scott Kuinersma, Atlas Team Lead at Boston Dynamics.
This means Atlas can identify the properties of objects, their mass, shape, weight, and composition. Naturally, this means a lot of code and effort put into this update to Atlas, which you can see in the behind-the-scenes video below.