Microsoft's contractor policy could slow down game development at Activision-Blizzard if the proposed merger goes through.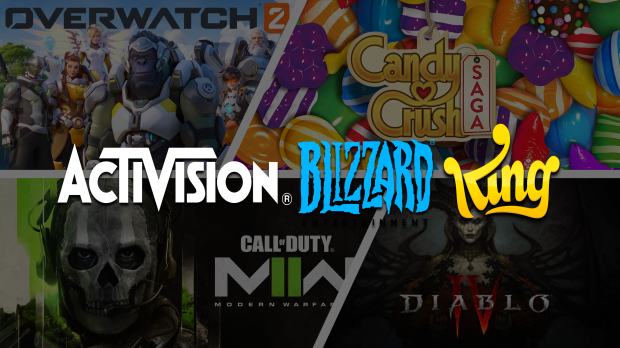 In our previous coverage I've expressed thoughts on how Microsoft's business plan could significantly disrupt Activision-Blizzard earnings by offering key premium games on Xbox Game Pass. I've also discussed that Microsoft could lay off many Activision Blizzard King employees post-merger, especially in "cost synergy" areas like marketing and HR. Now another interesting point could be worth exploring: How would Microsoft affect game development at Activision Blizzard King?
Microsoft's recent 10,000 employee layoff spree could give us a few clues. On Twitter, ex-Halo developer Tyler Owens reminded me of Microsoft's contractor policy, which got the wheels turning. "Between the contracting policies they abuse for tax incentives," Owens said, expressing frustration due to all of the 343i employees that were recently laid off.
Microsoft's contractor policy is actually a problem for its first-party studios and has led to the delaying and rebooting of various games. The policy essentially says that contractors cannot work at Microsoft for more than 18 months lest they become an employee. Microsoft doesn't really want to pay contractors as employees, so instead of hiring them, the contractors are instead contracted to work for just 18 months. This isn't a lot of time for game development.
A lot of game developers depend on external third-party studios and contractors to get things done. Many tasks like animation, environmental effects, and character models are outsourced to contractors. There's simply too much for any one team to do.
343 Industries, for example, relied on contractors to make Halo Infinite. Back in December 2021, Bloomberg's Jason Schreier reported that Microsoft's contractor policy slowed development of Halo Infinite. Having to onboard leagues of new people every 18 months and get them familiar with the tools was a point of contention at the studio.
It's implied that the same could be true for other Xbox projects as well. Perfect Dark, for example, was a game that faced tumultuous development, and the new Fable game has apparently been rebooted internally.
So we have to wonder...how would this 18-month policy affect Activision Blizzard King? Right now Activision is expanding Call of Duty more than it ever has, with every studio in the Activision label working on the franchise in some fashion.
Blizzard is also expanding into new territories. The publisher is trying to unify game development under a single engine, and it's working on new projects like Diablo IV, World of Warcraft expansions, and a brand new online fantasy survival game.
King, on the other hand, is primarily working on new Candy Crush content in the free-to-play mobile sector.
If all of these teams now have to work around an 18-month contractor policy, what will become of these projects? Will we see even more time between big game releases?
Then again, Activision Blizzard King employs some 9,000 people. It'd be interesting to know how much the media giant relies on third-party external contractors to release its games.
It's hard to say what will happen right now, but as Microsoft prepares to lay off 10,000 people across many divisions including Bethesda, The Coalition, and 343 Industries, it's something worth thinking about.