2022 wasn't the best year for video games earnings, a new report from analyst firm Newzoo suggests.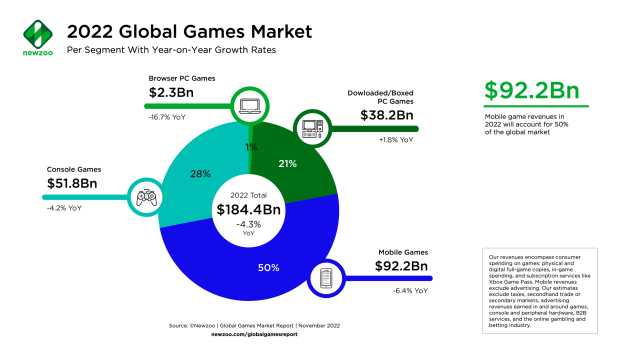 From 2020-2021, pandemic spending sparked record-breaking earnings across gaming's Big 3 (Sony, Microsoft, Nintendo) and various publishers like Activision-Blizzard, Take-Two Interactive, and Electronic Arts. Now in 2022 the video games market is stabilizing itself.
The global games market is expected to make $184.4 billion in 2022, down a significant 4.3% from 2021. A quick bit of math shows that 2022 brought in nearly $8.3 billion less than the previous year. Newzoo's latest annual games market report notes that this is the first year-over-year decline in worldwide games earnings since the company started tracking data.
The analyst firm rightly notes that the rising inflation market has forced consumers to prioritize other needs over entertainment as discretionary income becomes more strained.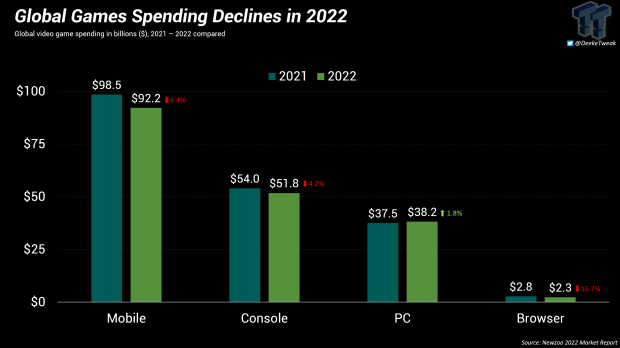 Mobile gaming is being hit hard by the decline.
The mobile segment is expected to earn $92.2 billion and comprise 50% of total annual revenues. This is a -6.4% drop year-over-year. Newzoo says the decrease is due to a number of factors including scrutiny of privacy issues on iOS, which has affected the ability to track user data and match advertisements.
Console gaming is also expected to decline -4.2% year-over-year to $51.8 billion as fewer games released in 2022 than previous years, especially as games were delayed, however breakout hits like Elden Ring helped stabilize further losses.
The browser PC game segment saw the biggest drop. This segment, which companies like Square Enix rely on, dropped a significant -16.7% year-over-year to $2.3 billion and comprises just 1% of total consumer spending.
PC gaming actually saw a healthy uptick in revenues with earnings increasing by 1.8.% to $38.2 billion. PC gaming is still #3 behind both mobile and console, but the gap between console and PC is shrinking; Console gaming made up 28% of global earnings and PC gaming made up 21%.