Vadim drives 8800GTS 512MB to 800MHz+
Fudo has the story.

Published Tue, Dec 11 2007 3:26 AM CST
|
Updated Tue, Nov 3 2020 12:38 PM CST
Fudo from Fudzilla managed to
make some time
to visit Vadim Computers in the UK for a first look at a water-cooled 8800GTS 512MB based system. The results of the outing were impressive, to say the least.
During an overclocking session, they managed to overclock the water-cooled G912 512MB to 800MHz core clock (650MHz is standard), 2080MHz shader clock (1625MHz is standard) and 2300MHz DDR memory clock (1940MHz DDR is standard).
Naturally, the resulting 3DMark06 benchmark runs speak for themselves.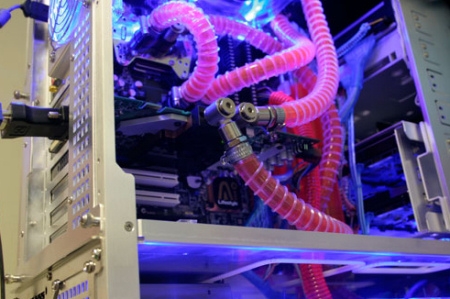 The overclocked 8800GTX with Q6600 at 3.6GHz all water cooled scores a bit lower than 14000 while the 8800GTX 512MB overclock to these speeds and at the same 3.6GHz CPU speed scores 16500.

If you put Yorkfield Q9650 and overclock it all the way to 4450MHz you can even touch the 17800 mark. Wizard's GPUz gave some funny numbers with this overclocked cards but we are sure that will get fixed as the GPU didn't worked at 1150MHz.