XP performance to increase with SP3
But what about Vista?!
Published Mon, Nov 26 2007 6:17 PM CST
|
Updated Tue, Nov 3 2020 12:38 PM CST
A Florida based performance testing company by the name of Devil Mountain Software has issued out a graph to the masses which shows benchmark results calculated by "OfficeBench" in both Windows XP (SP2) and Vista (RTM).
This alone seems a little pointless as we already know XP is still able to hold its own ground for the most part when soley focusing on performance. However, what makes the graph a bit more interesting is that the testing company also chose to throw in test results of both Vista and XP running pre-release builds of SP1 and SP3 respectively.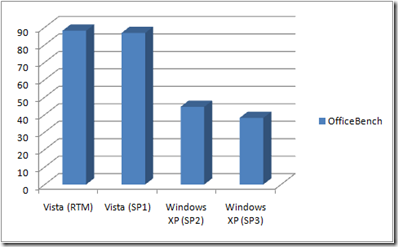 The end result it would appear is that the performance gap between XP and Vista even further extends, with SP3 for XP bringing significant performance improvements over the existing SP2. Meanwhile, Microsoft have said it isn't likely there will be ANY performance improvements to come with SP1 for Vista, rather just a mass of bug fixes etc.
Really though, it's early days yet. Both upcoming Service Packs arn't due until the first half of next year sometime so Microsoft may yet decide to do something about Vista's under-performing nature in comparison to its older sibling.
With all of that said though, this performance results graph doing the rounds at the moment has way too many variables playing a role to consider it as being an accurate representation of an Operating System's overall performance.
More details on the graph results can be
found here
.