Epic is donating 100% of Fortnite's Vbucks earnings to Ukraine relief
Epic Games is donating 100% of all Fortnite's Vbucks profits to Ukrainian relief, which may amount to tens of millions of dollars.

Published Sun, Mar 20 2022 4:32 PM CDT
|
Updated Fri, Apr 15 2022 8:02 PM CDT
Epic Games is donating 100% of all profits from Fortnite Vbucks virtual currency to Ukrainian relief, the company has announced.
Epic could very well make the games industry's largest contribution to humanitarian relief in Ukraine. The billion-dollar titan says it plans to donate all proceeds generated from Fortnite microtransactions in a two-week period (this is equal to revenues minus platform fees, taxes, refunds, etc).
"All real-money Fortnite purchases made between March 20, 2022 and April 3, 2022 will be distributed. This includes V-Buck packs, Fortnite Crew, gifted Battle Passes, and cosmetic packs such as the Voidlander Pack sold for real money. Retail store purchases of in-game cosmetics and V-Bucks cards will also be included if they are redeemed in-game during this window."
This donation could amount to tens of millions of dollars. Based on findings from the Epic vs Apple trial, Fortnite has generated over $12.8 billion in lifetime earnings through 2020. A quick bit of math shows Fortnite made roughly $287 million per month on all platforms in 2020; bear in mind this is total revenues and not the finalized profits (or proceeds) that will be donated during this period.
It's quite obvious that Epic will make a significant contribution to Ukrainian relief efforts.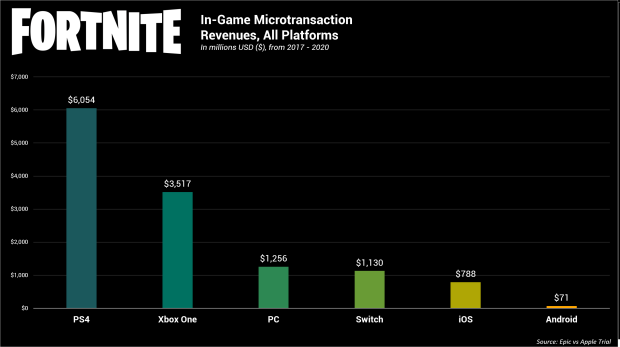 Related Tags