SanDisk announces PC Flash accelerator
Better than ReadyBoost?
Published Wed, Nov 14 2007 7:21 AM CST
|
Updated Tue, Nov 3 2020 12:38 PM CST
SanDisk has announced what it calls the Vaulter Disk, a PCI Express based module which fits inside your PC or notebook and that is supposed to boost your hard drive performance. Sounds familiar? Yeah, to us too, but this isn't another ReadyBoost or Turbo Memory variant, as SanDisk has realised that 1GB of Flash memory just isn't enough and USB isn't fast enough to make any difference.
The name Vaulter Disk should give it away, this is a go-between as it caches frequently used hard drive data, it will be available in eight or 16GB capacities, which is actually more storage space than the Asus Eee PC has. Sure, it's far from the 1TB of the largest hard drives or even 320GB of a notebook drive, but the idea here is that there's actually enough room to cache the entire OS and just about any application you're using.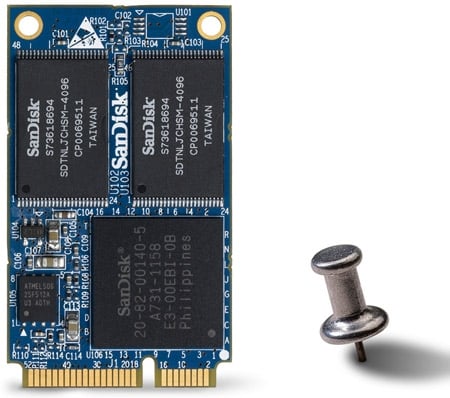 It should allow for a pretty decent boost in system performance for those that can't afford to get an SSD drive, although as no pricing was announced, we're not sure how affordable or not these modules will be. But the press release mentions this much:
"This system solution brings SanDisk's flash performance benefits to the price-sensitive consumer who needs high-capacity storage"
.
Let's hope they stick to the price-sensitive part and make this an affordable upgrade, as it looks like it could offer a healthy overall system performance boost if it works anywhere near as good as it sounds.
You can find the press release
here