Miyagi-Do, Eagle Fang, and Cobra Kai outfits sweep Fortnite
Fortnite's latest cosmetic pack channels your inner All-Valley Champ with new Cobra Kai and Karate Kid crossover content.

Published Fri, Dec 31 2021 7:53 AM CST
|
Updated Sat, Jan 22 2022 1:57 PM CST
Cobra Kai season 4 premieres today, and you know what that means: Fortnite crossover.
Fortnite's latest cosmetic bundle sweeps the leg with a bunch of content inspired from the Karate Kid series. The set has variety of stances and outfits lifted straight from the karate riot universe, including gis from Cobra Kai, Miyagi-Do, and even Eagle Fang Karate (wait, eagles don't have fangs...). There's even a crane kick emote for 300 V-Bucks that would make Mr. Miyagi proud.
The packs cost 2,000 V-Bucks ($14.99) and each piece is also sold individually. Sadly there's no wax on, wax off emote...
Cobra Kai season 4 is now airing on Netflix, and check below for prices and everything that's included in the new Fortnite x Cobrai Kai content: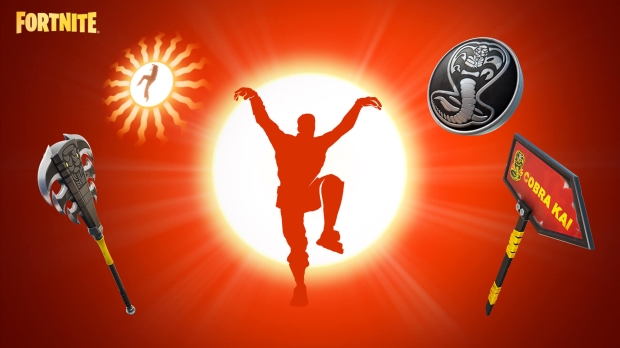 Karate KO Bundle (includes all five female cosmetic skins) - 2,000 V-Bucks

Dojo Showdown Bundle (includes all five male cosmetic skins) - 2,000 V-Bucks

Cobra Kai Gear Bundle - 1,500 V-Bucks

Heron Stance Hero - 800 V-Bucks

Mat Master - 800 V-Bucks

Keri Commander - 800 V-Bucks

Shuto Striker - 800 V-Bucks

Kata Captain - 800 V-Bucks

Karateka Jones - 800 V-Bucks

Dojo Defender - 800 V-Bucks

GI Guardian - 800 V-Bucks

Black Belt Brawler - 800 V-Bucks

Kumite Clasher - 800 V-Bucks

The Crane Kick Emote - 300 V-Bucks

Teaching of Miyagi Back Bling - 400 V-Bucks

Cobra Coin Back Bling - 200 V-Bucks

Dojo Logo Pickaxe - 800 V-Bucks

Cobra's Curse Pickaxe - 800 V-Bucks
Related Tags