Intel Z690 chipset detailed: 16 x PCIe 5.0 lanes for next-gen GPUs
Intel's new Z690 chipset has 16 x PCIe 5.0 lanes for your GPU, and supports 4 x PCIe 4.0 NVMe SSDs for the ultimate next-gen PC.

Published Thu, Sep 9 2021 10:10 PM CDT
|
Updated Tue, Oct 5 2021 11:32 PM CDT
Intel's next-gen Alder Lake CPU architecture and new 600-series chipset is right around the corner, with the flagship Core i9-12900K and flagship Z690 chipset getting some more details today.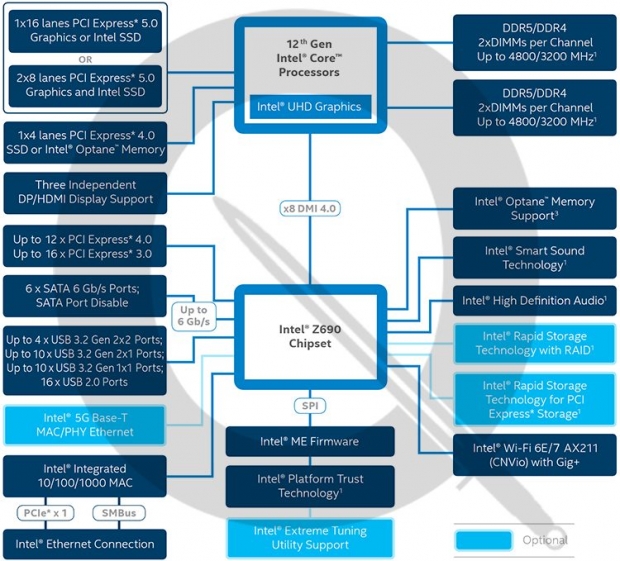 A new diagram for the Intel Z690 chipset has been posted by PC Inquisitor, where we can see that the new Z690 chipset has 1 x 16 + 2 x 8 lanes of PCIe 5.0 that are attached directly to the CPU. The Z690 chipset itself will have support for up to 12 x PCIe 4.0 lanes and up to 16 x PCIe 3.0 lanes.
We will see next-gen Z690-based motherboards -- which will surely be very expensive -- supporting an x16 PCIe 5.0 graphics card as well as 4 x high-speed PCIe 4.0 NVMe SSDs that will be able to push upwards of 7GB/sec reads. Now imagine a PCIe 5.0 SSD that will hit 15GB/sec+ on those new x16 PCIe 5.0 ports. Ohhh boy, oh boy, oh BOY.
Intel's new 12th Gen Core CPUs will also have support for next-gen DDR5 RAM, but there will be support for DDR4 AM as well. Intel has confirmed it will support both DDR5-4800 and DDR4-3200 RAM on their new 600 series motherboards.
Intel is expected to unleash its new 12th Gen Core "Alder Lake" CPUs in November, with Windows 11 dropping on October 5.
Related Tags