Intel's next-gen Alder Lake architecture: everything you need to know
Intel's next-gen Alder Lake CPU architecture: Performance and Efficienct Cores are coming in the next-gen 12th Gen Core CPUs.

Published Thu, Aug 19 2021 9:11 PM CDT
|
Updated Sun, Sep 19 2021 3:04 AM CDT
Intel has detailed its next-gen Alder Lake CPU architecture, its first high-performance hybrid architecture that will debut with the new 12th Gen Core CPUs later this year.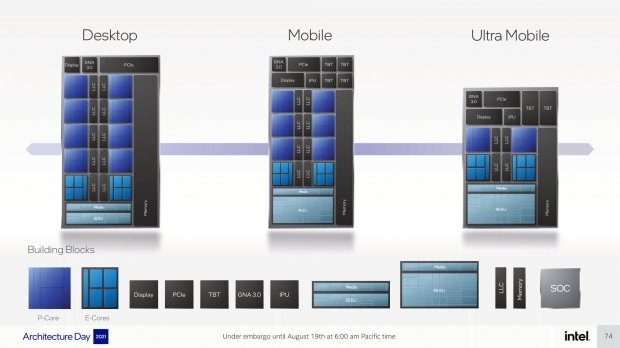 The new Alder Lake CPUs will debut on the desktop in LGA1700 form, all the way down to mobile and ultra-mobile designs. The desktop Alder Lake flagship CPU which should take form as the Core i9-12900K, will have 8 P-cores, and 8 E-cores, with the 8 P-cores will include Hyper-Threading for a total of 24 threads of CPU power.
An integrated Xe GPU is included, with 96 EUs (or is that Xe-cores, now) so expect some decent performance out of the integrated GPU.
Alder Lake = 12th Gen Core CPUs: If you keep hearing "Alder Lake" and don't know what it is, we'll start off easy: Alder Lake is the architecture codename from Intel -- you'll see it appear on the market as the 12th Gen Core CPUs with the flagship Intel Core i9-12900K processor.
DDR5 RAM support: Yep, you've got the huge upgrade to DDR5 RAM here with Alder Lake CPUs and Intel's upcoming 600-series chipset and new motherboards. You will not be able to use your current DDR4 RAM and will need to buy new DDR5 RAM with your new 12th Gen Core CPU and new 600-series motherboard.
PCIe 5.0 technology support: Not only do you have DDR5 RAM support but you've also got PCIe 5.0 support, now this is backward compatible. Even if you're not using a new PCIe 4.0-based GPU like NVIDIA's new GeForce RTX 30 series and AMD's new Radeon RX 6000 series GPUs... PCIe 5.0 is backward compatible. Your PCIe 3.0 devices will work with PCIe 5.0 without a problem.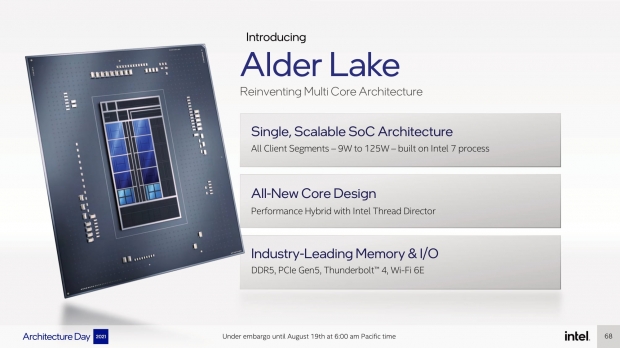 All-new Core design, with Hybrid technology: Now inside of Intel's new CPUs -- get it, Inside Intel, heh -- there's a new Core design with Hybrid technology. What this means is that Intel is using hybrid CPU architecture technology similar to how you see an SoC inside of a smartphone. There are high-performance and high-efficiency cores inside of the new Alder Lake CPU architecture. The high-power ones do what you expect: the high-power jobs like applications, and gaming. The efficiency cores can run the OS and other lower-end apps that aren't chewing away at the CPU threads.
Scalable architecture -- from low-end CPU to flagship CPU: You're going to see Alder Lake spread across low-end CPUs through to low-and-mid-range laptop CPUs right up into the lofty heights of enthusiast chips with the flagship Core i9-12900K and even future HEDT platforms to better fight AMD's high-thread-count Ryzen Threadripper chips.
Intel Thread Director -- performance boosts for Windows 11: If you're upgrading to a new Intel Alder Lake 12th Gen Core CPU, then you'll have an on-chip CPU thread manager dubbed Thread Director. Intel's new Thread Director technology will tweak your CPU and schedule tasks between threads much more efficiently with Windows 11, reducing lag and stuttering to virtually zero on the tasks you're doing, or games you're playing. You can read more about Intel Thread Director here.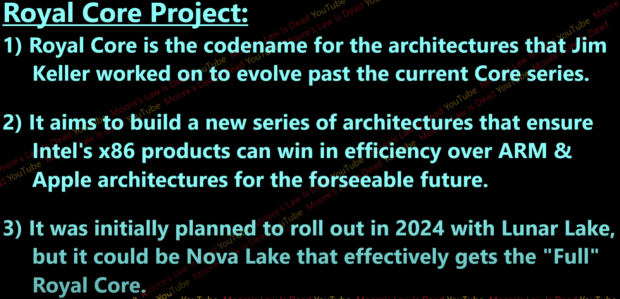 The future is Royal Core... the AMD Zen 5 killer: We're not even holding the Alder Lake silicon in our hands yet, and we're already hearing whispers of Intel's next-gen Royal Core. The new Royal Core project is going to be the biggest architectural leap since the original Core, if not in the history of Intel CPUs. You can read more about the AMD Zen 5 killer, Intel Royal Core, right here.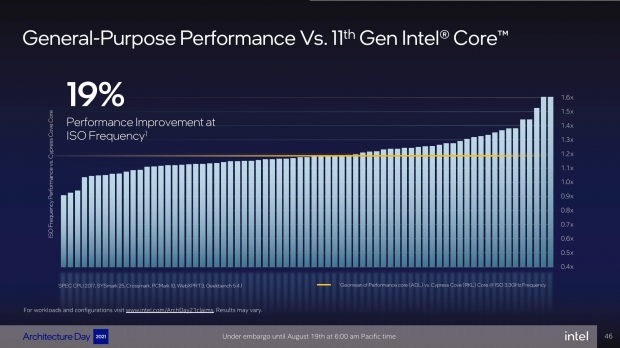 As for the IPC improvement from Alder Lake, we're looking at up to a 19% IPC improvement over Rocket Lake. This will be interesting to see pan out, and should see Intel securing that performance leadership.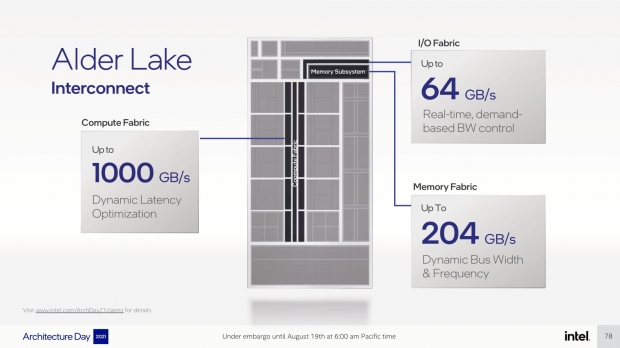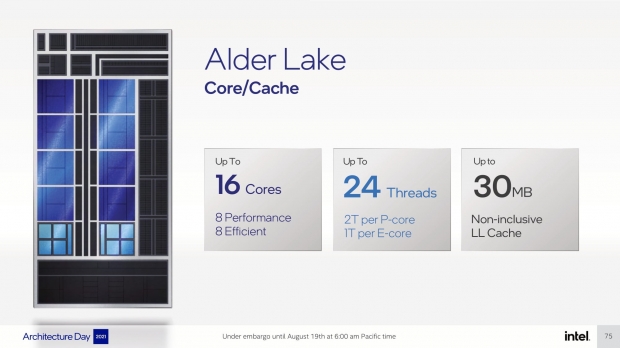 Intel's new Alder Lake CPUs will have up to 16 cores (8 Performance, 8 Efficient) with up to 24 threads (depending on the CPU) and up to 30MB of non-inclusive LL Cache.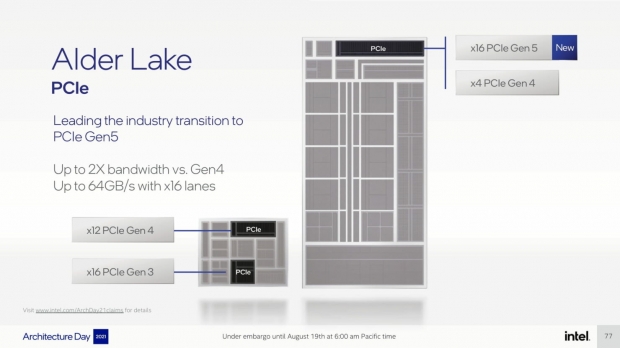 There's some truly next-gen technology and features inside of Intel's new Alder Lake CPU architecture, with the introduction of PCIe 5.0 that offers 2x the bandwidth of PCIe 4.0 with up to 64GB/sec on a PCIe 5.0 x16 slot.
We won't see PCIe 5.0 graphics cards overnight, but PCIe 5.0-based SSDs can be unleashed for 15GB/sec SSDs of the very near future. We've been hearing news of PCIe 5.0 SSD controllers for a few months now, and they will indeed be offering 14-15GB/sec if you can believe it.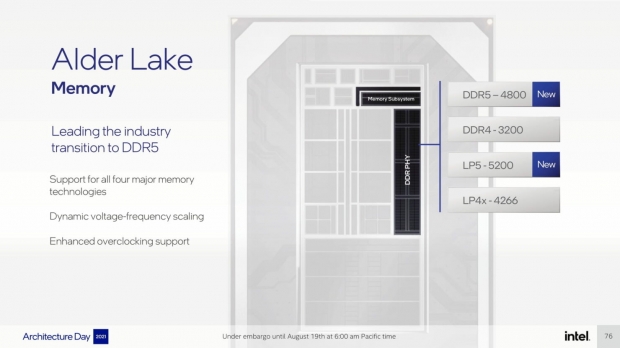 Not only will Intel be the first to market with the new PCIe 5.0 standard, but they'll also be the first to market with the introduction of DDR5 memory. Alder Lake will support the push into the world of super-fast DDR5 memory technology, with Alder Lake including support for all four major memory technologies.
DDR5 memory will have increased overclocking support, something I'm excited to see some OC muscles flexing and world records being broken with the next-gen Intel Alder Lake CPU joined by overclocked, high-speed DDR5 memory. There's also dynamic voltage-frequency scaling, and DDR5-4800 and LP5-5200 RAM supported by Alder Lake.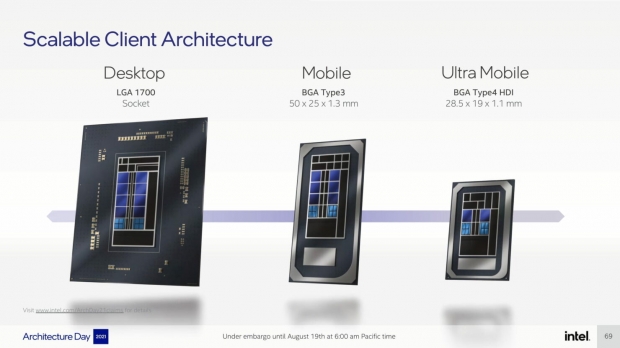 Alder Lake on the desktop will arrive in the form of the new LGA 1700 socket, while the mobile design of Alder Lake will be on BGA Type3, and the Ultra Mobile design with BGA Type4 HDI.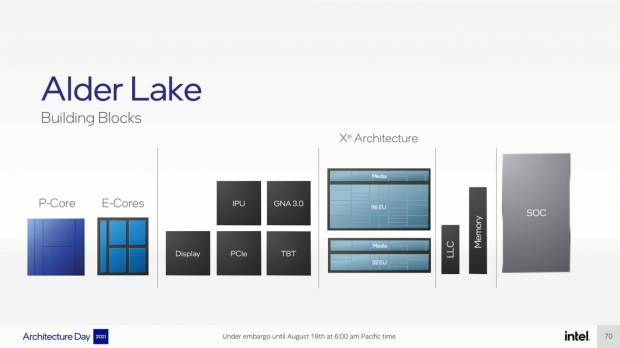 Alder Lake broken down into simple building blocks, which is impressive to see.
Intel's next-gen Alder Lake CPUs will debut with the 12th Gen Core CPU family later this year.
Related Tags