Jeff Bezos and crew complete Blue Origin's first human space flight
Blue Origin has taken Jeff Bezos and his brother Mark along with 82-year-old aviation pioneer and an 18-year-old to space.

Published Wed, Jul 21 2021 6:38 AM CDT
|
Updated Thu, Aug 19 2021 11:12 PM CDT
Jeff Bezos and the crew aboard Blue Origins New Shepard rocket have successfully completed their visit to space.
Blue Origin's New Shepard rocket took off from Blue Origin's Launch Site One near Van Horn, Texas, at 09:14, am EDT. Amazon founder Jeff Bezos was joined by his brother Mark Bezos, Wally Funk, an 82-year-old aviation pioneer, and 18-year-old student Oliver Daemen. The flight has won Blue Origin a few achievements as the company can now say it has put the oldest and youngest person in space.
Blue Origin is very particular with its marketing as the company makes sure to prominently highlight that its space tourist trips pass the Karman line, something that Virgin founder and billionaire entrepreneur Richard Branson's space tourism company Virgin Galactic is unable to with its VSS Unity. Blue Origin made several reminders that its capsule passes the Karman line, which is an "internationally recognized" line that separates Earth's atmosphere from space. The Karman line resides at an altitude of 62 miles.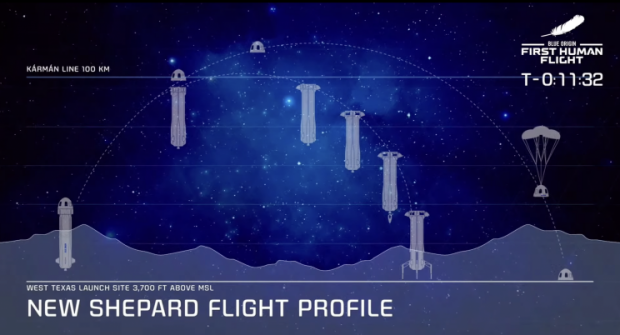 Related Tags