LG has two new Super Multi Blue drives
Every single format covered?
Published Fri, Jul 20 2007 3:54 AM CDT
|
Updated Tue, Nov 3 2020 12:39 PM CST
LG Electronics has released information about its two new Super Multi Blue drives, which takes just about every format under the sun. The first model is the GGW-H20LI which will retail for US$500 and it will write to single and dual layer BD-R/RE discs. It will also write to DVD+/-R/RW discs and read Blu-ray, HD DVD and DVD discs.
The slightly cheaper GGC-H20LI comes in at US$400 and can't write to BD discs, but it will write to DVD+/-R/RW and CD-R/RW discs and possibly DVD-RAM as well. It will read Blu-ray, HD DVD, DVD and CD media.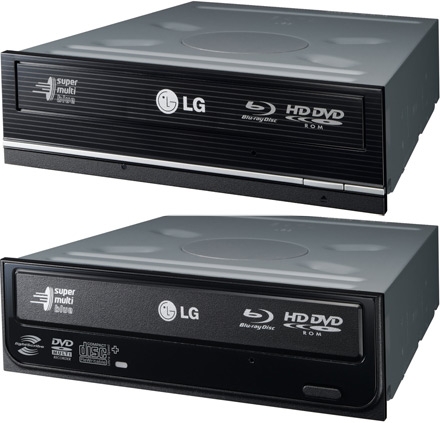 The GGW-H20LI will write to BD-R/RE discs at 6x, that means it'll take about 16 minutes to burn a full single layer BD-R disc compared to over 45 minutes for a 2x drive or about 25 minutes for a 4x drive. A dual layer 50GB disc will take about 32 minutes to burn. It will also record DVD+/-R discs at 16x.
The GGC-H20LI on the other hand will write to DVDs at 16x and CD-R/RW discs at 32x. Both drives also feature LightScribe for labelling the discs. No word on what interface these drives are using, but let's hope it's SATA, as IDE seems to be disappearing quickly on new motherboards.