German sniffer dogs are getting better at sniffing to detect COVID-19
Researchers in Germany are using army sniffer dogs to detect coronavirus on people, could be used in the very near future.

Published Jul 26, 2020 3:33 AM CDT
|
Updated Wed, Jul 27 2022 3:46 AM CDT
The future of detecting COVID-19 coronavirus in the wild might just be a... sniffer dog.
New research is being conducted by scientists over at the University of Veterinary Medicine Hanover, who have been training sniffer dogs to detect COVID-19 on human samples.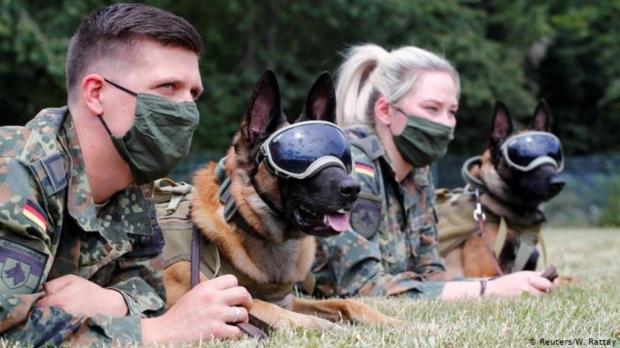 Their recent tests have been quite accurate, where the scientists taught 8 separate sniffer dogs from the German Bundeswehr for just a few weeks to be able to tell the difference between the saliva and mucus of people that had coronavirus, and didn't have coronavirus.
After that, the dogs were then presented with both positive and negative samples on a random basis by a machine. What the tests showed is that the German sniffer dogs had an 83% success rate of positively detecting SARS-CoV-2 infected secretions -- while the control secretions were much more successful at 96% to bring it to a combined overall detection rate of 94%.
There were over 1000 sniffed samples in this testing, with the results published in the BMC Infectious Diseases journal.
Professor Maren von Kockritz-Blickwede, who is a specialist in the biochemistry of infections, explained: "We think that this works because the metabolic processes in the body of a diseased patient are completely changed and we think that the dog is able to detect a specific smell of the metabolic changes that occur in those patients".
Holger Volk, chair of the university's department of small animal medicine, added: "What has to be crystal clear is that this is just a pilot study. There's a lot of potential to take this further - to really use these dogs in the field".
The conclusion of this report underlines: "In countries with limited access to diagnostic tests, detection dogs could then have the potential to be used for mass detection of infected people. Further work is necessary to better understand the potential and limitation of using scent dogs for the detection of viral respiratory diseases".
Related Tags