Want to transform into a demon-smashing brute with insane 22-inch biceps? Introducing Spicy Doom'ade, the new G Fuel energy drink that inspires you raze hell.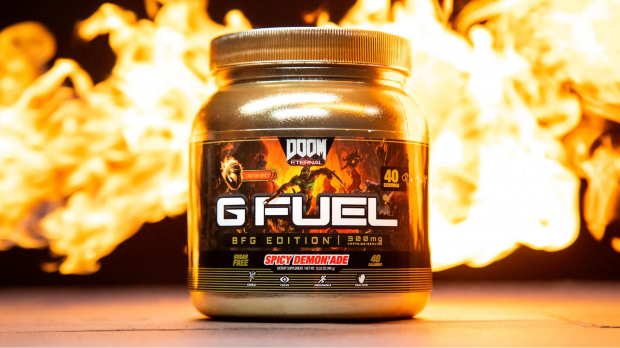 Doom Eternal is so hardcore that it apparently has its own official energy supplement. Today the gaming-oriented G Fuel line announced Spicy Doom'ade BFG Edition, a drink mix with an insane 300mg of caffeine per serving.
It gets even more extreme though: The Doom Slayer's personal energy drink adds in some lava-hot cayenne pepper to the mix. Yes, this is a real thing. Doom'ade isn't pre-workout, but it'll definitely give you a nice jolt to keep you focused in whatever you're doing, whether it's pumping iron or pumping enemies full of shotgun shells.
Doom'ade is on sale now and costs $39.99 for a 40-serving container.
If you're going to successfully rid the Earth of an unrelenting, unstoppable, demonic invasion capable of destroying all life as we know it, you're gonna need all the help you can get! And that's where this "SPICY DEMON'ADE" G FUEL Flavor comes into play!

A fiery, cayenne pepper & lemonade-infused elixir (yes, you read that right - this flavor brings the HEAT)- Inspired by Bethesda's upcoming, high-octane FPS Adventure Game: DOOM ETERNAL!!! IT'S TIME TO UNLEASH YOUR INNER-DOOM SLAYER!!!