Qualcomm Adreno 650 GPU 'most efficient graphics core in the world'
Qualcomm's new Snapdragon 865 has 'most efficient graphics core in the world' with Adreno 650.

Published Wed, Dec 4 2019 1:57 PM CST
|
Updated Tue, Nov 3 2020 11:46 AM CST
Qualcomm is slowly detailing its new Snapdragon 865 mobile platform at its annual Snapdragon Summit event here in Maui, Hawaii -- with more details on the GPU side of things in Adreno 650.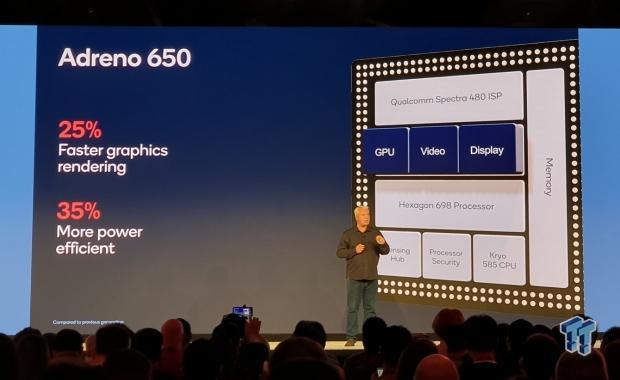 The new Adreno 650 GPU in the Snapdragon 865 has a very decent 25% faster graphics rendering over the previous-gen GPU, while being 35% more power-efficient. Qualcomm said that Adreno 650 is the "most efficient graphics core in the world".
Qualcomm made a strong point that the new Snapdragon 865 and Adreno 650-powered GPU offer sustained performance, versus turning up and killing benchmarks but losing power over time as speeds drop to keep heat and power consumption down.
Qualcomm doesn't just want to make a better chip, it wants to be the outright leader in its field -- it's not used to coming in second best. This means that the Adreno 650 can drive gaming on Snapdragon 865 to "desktop-level" performance -- but desktop graphics cards like NVIDIA GeForce and AMD Radeon products have huge coolers and much larder TDPs.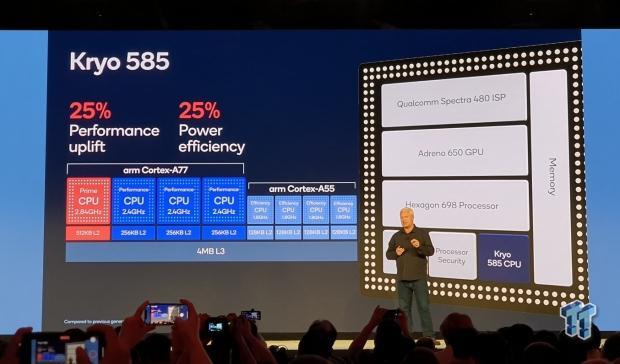 This means Qualcomm needs to be make the required efficiency upgrades in Snapdragon 865 to handle that, with the company pushing that it has sustained performance -- not just brute speed, that slows down once the benchmarks are run.
Gamers require constant gameplay, something Qualcomm is well aware of -- they say that Snapdragon 865 will perform just as well in the chilly environment of Alaska as well as the sunny beaches of Maui. One Snapdragon 865-powered phone will perform like another, versus the tweaks that phone makers will do to their respective handsets.
Snapdragon 865-powered gaming smartphones are truly going to be beasts, and for the first time ever I kinda want to get one.
Related Tags