Universe first: three supermassive black holes found at galaxy's heart
Three supermassive black holes have been found at the center of a galaxy.

Published Tue, Nov 26 2019 2:34 AM CST
|
Updated Tue, Nov 3 2020 11:46 AM CST
Originally, astronomers believed that the galaxy NGC 6240 was a result of two galaxies merging together. Recently that theory has been thwarted with newly discovered information.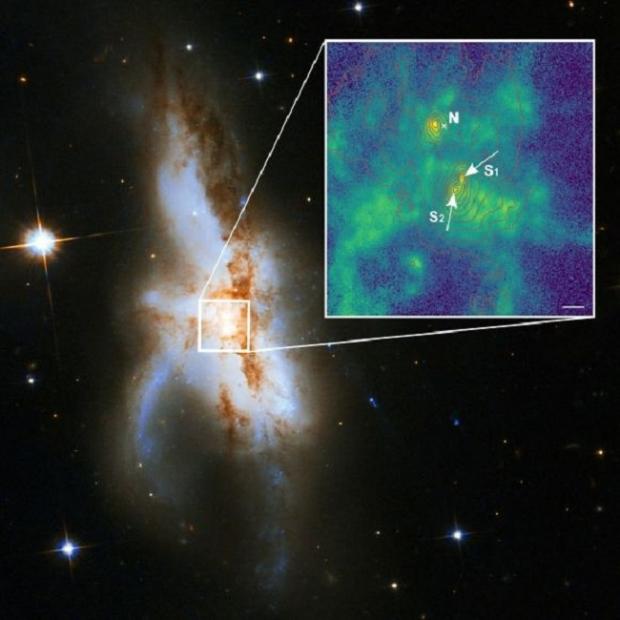 Astronomers are observing NGC 6240, which is located about 400 million light-years away in the constellation Ophiuchus. For quite some time, astronomers have been confused by this galaxy, but recently a new study has been conducted using the European Southern Observatory's (ESO) Very Large Telescope (VLT,) along with the advanced 3D MUSE Spectrograph. This study has shone a new light on NGC 6240, revealing to researchers that the galaxy isn't a result of two colliding galaxies, but instead three.
The most surprising part is that originally, astronomers believed there to be two black holes located at the heart of NGC 6240 (the two galaxies). But after the recent study was finished, astronomers have now discovered that there are three supermassive black holes there, marking the first time ever that astronomers have discovered such a large concentration of them. Dr Peter Weilbacher of the Leibniz Institute for Astrophysics Potsdam (AIP) said, "Up until now, such a concentration of three supermassive black holes had never been discovered in the universe. The present case provides evidence of a simultaneous merging process of three galaxies along with their central black holes."
Astronomers and researchers hope that this new information will help them understand how enormous galaxies are formed when more are eventually found in the future.
Related Tags