Solar energy breakthrough: fossil fuels replaced with AI & sunlight
Bill Gates-backed energy startup wants to replace fossil fuel with sunlight.

Published Wed, Nov 20 2019 7:30 PM CST
|
Updated Tue, Nov 3 2020 11:46 AM CST
You might not have heard about Heliogen before, but you will soon if their new technology continues breaking barriers -- the Bill Gates-backed energy startup has successfully concentrated solar energy at "breakthrough" temperatures breaching 1000C (1832F), making it hot enough that it could replace fossil fuels in industrial tasks like producing cement and steel.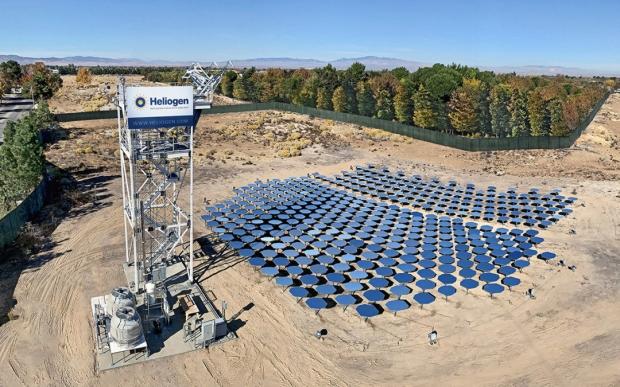 Heliogen is tapping AI in the form of computer vision to precisely align a bunch of mirrors to reflect sunlight on a single target, therefore concentrating all of the sun's energy into one point. Until now, this wasn't exactly possible and it's what Heliogen has done differently - and successfully.
At their commercial facility in Lancaster, California, Heliogen experienced what is just our first taste at the realms of replacing fossil fuels by using carbon-free, ultra-high temperature heat from the sun, transforming that sunlight into fuels. Before now, commercial concentration of sunlight have only reached 565C (1049F) -- but Heliogen's work here saw them hit 1000C (1832F). These temperatures are normally only reached by burning fossil fuels, making this a big breakthrough.
Heliogen won't stop there, as the company's own technology roadmap is aiming to breach temperatures of 1500C (2732F) which would see them perform CO2-splitting and water-splitting -- opening up the world of 100% fossil free fuels like hydrogen or syngas. This is all thanks to the breakthrough technology used by Heliogen in the form of advanced computer vision that can "hyper-accurately" align the large array of mirrors onto a single target, better harnessing the energy from the sun.
For more information on Heliogen's advancements, check our their massively detailed press release.
Related Tags