Red Dead Redemption 2: Vulkan and DX12, 40 graphics options to tweak
Red Dead Redemption 2 launches on the PC with a gigantic list of graphics options.

Published Tue, Nov 5 2019 10:31 PM CST
|
Updated Tue, Nov 3 2020 11:46 AM CST
Red Dead Redemption 2 has just launched on the PC and while I was able to download it and initially run it, the Rockstar Launcher crashed and I couldn't load into RDR2 again (at least at the time of writing).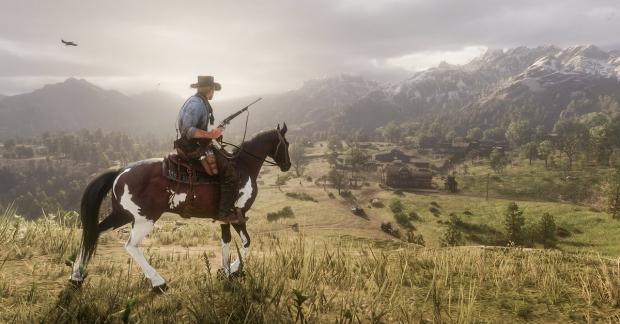 Now that Rockstar has launched Red Dead Redemption 2, I did however get into the game and begin my benchmarking article on the game and noted down all of the graphical options to tweak. Rockstar has over 40 graphical options to tweak with my test rig packed with an NVIDIA GeForce RTX 2080 Ti using around 6GB of VRAM at 4K and maxed out settings in Red Dead Redemption 2.
There is an option to change the graphics API from its default setting on Vulkan to DX12, but given that Rockstar Launcher continuously crashed I haven't been able to test it just yet. I did play around with the graphics settings and yeah, there's a lot of them to play around with. They go from Low to Ultra for the most part, with some maxing out at High and others like TAA being a toggle ON/OFF.
Red Dead Redemption 2 Graphics/Visual Settings
Output Adapter

Output Monitor

Resolution

Refresh rate

Screen type

VSync

Triple Buffering

Pause Game On Focus Loss

Constrain Mouse Pointer

Texture Quality

Anistrophic Filtering

Lighting Quality

Global Illumination Quality

Shadow Quality

Far Shadow Quality

Screen Space Ambient Occlusion

Reflection Quality

Mirror Quality

Water Quality

Volumetrics Quality

Particle Quality

Tessellation Quality

TAA

FXAA

MSAA

Advanced Graphics

Advanced Settings -

Graphics API

Near Volumetric Resolution

Far Volumetric Resolution

Volumetric Lighting Quality

Unlocked Volumetric Raymarch Resolution

Particle Lighting Quality

Soft Shadows

Grass Shadows

Long Shadows

Full Resolution Screen Space Ambient Occlusion

Water Refraction Quality

Water Reflection Quality

Water Physics Quality

Resolution Scale

TAA Sharpening

Motion Blur

Reflection MSAA

Geometry Level of Detail

Grass Level of Detail

Tree Quality

Parallax Occlusion Mapping Quality

Decal Quality

Fur Quality
Related Tags