Paralyzed man walks again using brain-controlled exoskeleton
Exoskeleton suit helps mostly paralyzed man to walk again.

Published Oct 11, 2019 7:38 PM CDT
|
Updated Tue, Nov 3 2020 11:46 AM CST
The use of exoskeletons can and will be vast as the technology matures and time passes, with researchers over at the University of Grenoble releasing their results of a trial using a 4-limb robotic system that helps patients with tetraplegia, which is the loss of control of all four limbs.
The most tricky way of using the system is finding a patient with tetraplegia and getting them hooked into the system, with 28-year-old French man 'Thibault' using the suit. It's not a fully-baked and ready-to-use suit just yet, but in its current trial status the researchers along with the patients can train an algorithm that interprets brain signals which then converts them into physical movement.
Professor Alim-Louis Benabid, president of the Clinatec Executive Board, a CEA laboratory, and Professor Emeritus from the University of Grenoble, France, said in a press release: "Ours' is the first semi-invasive wireless brain-computer system designed for long term use to activate all four limbs".
Thibault suffered a horrific cervical spine injury that saw him lose control of his legs, but maintained movement in both his biceps and his left wrist. This left him able to use a wheelchair with just his left arm, but with the help of the exoskeleton suit trial he could use brain signals that converted to physical movement.
This required two sensors to be placed in the patient's skin and brain (but not the brain itself) which then monitored and recorded brain activity specifically in the sensorimotor cortex. This part of the brain is responsible for controlling movement and sensation.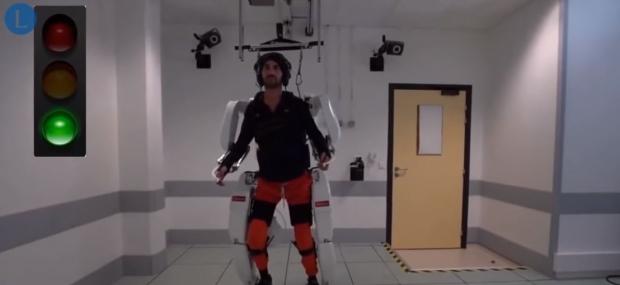 Other studies saw researchers inserting chips and sensors directly into the brain, but they required physical cables to be connected to computers. But this latest test was done with just sensors, and was all wireless - so no invasive and possibly dangerous surgeries to test out exoskeleton suits.
The tests involves training the algorithm to interpret the signals and twist them into movement, with a Pong-like game used to train the platform. Thibault had to move a platform to the left or right depending on where the digital ball flew, but he also practiced other movements like reaching out to another virtual hand, turning a wrist, and more movements.
In the end Thibault could walk with the exoskeleton suit, but the suit itself was attached to the ceiling for stability and in its current state, can't power a person to walk on their own. This is in the testing phase after all.
Professor Stephan Chabardes, neurosurgeon from the CHU of Grenoble-Alpes explained: "Our findings could move us a step closer to helping tetraplegic patients to drive computers using brain signals alone, perhaps starting with driving wheelchairs using brain activity instead of joysticks and progressing to developing an exoskeleton for increased mobility".
It's an awesome first step or two for the world of exoskeletons suit returning paralyzed people onto their feet.
Related Tags