Red Dead Redemption 2 will come to Stadia before Steam
Soon you can play Red Dead Redemption 2 without a PC or a games console.

Published Fri, Oct 4 2019 4:28 PM CDT
|
Updated Tue, Nov 3 2020 11:47 AM CST
Red Dead Redemption 2 will be out on Google's game-streaming Stadia service before it comes to Steam.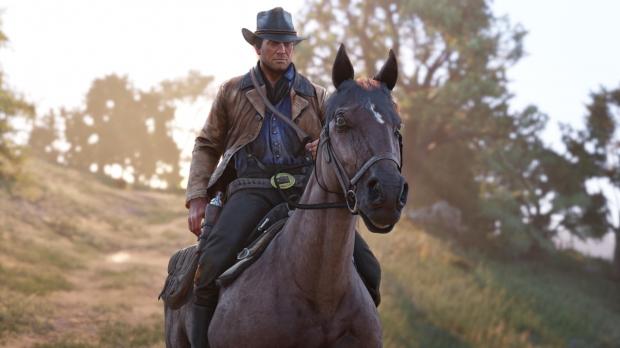 Rockstar Games today confirmed Red Dead Redemption 2 is coming to PC this November, but only to certain platforms. The timeline is staggered and Steam is last in line. The Wild West magnum opus is coming first to the Epic Games Store and the Rockstar Launcher on November 5, and will also be a launch title on Google Stadia. It's coming to Steam a month later in December.
So why's this so important? It shows Take-Two's and Rockstar's confidence in Stadia, or at the very least, their willingness to experiment on the platform. The service will effectively allow gamers to play RDR2 without owning a console or a PC, instead beaming the game right into living rooms via a Chromecast Ultra. It's a big move to put one of Rockstar's most popular games onto a streaming service, and RDR2 on Stadia could end up selling big thanks to the platform's accessibility.
Secondly, this move illustrates how Steam is less important than other potential money-making platforms.
Steam is definitely the biggest PC games market with 90 million active users, but Rockstar and Take-Two make less money from every sale on Steam. The devs get to keep 88% of every copy of RDR2 sold on Epic Games Store versus the 70% starting rate on Steam. Even better is selling the game on its own Rockstar Games Launcher to keep 100% of all earnings.
We're not sure about the revenue split from games sold on Stadia, but don't expect them to be any cheaper: every Stadia game will be sold a la carte at $59.99 unless you have a Stadia Pro membership--in that case you'll get a discount.
Finally, it's still a big deal that the game is coming to every PC storefront.
Rockstar could've just made RDR2 exclusive to its Rockstar Launcher storefront and called it a day. But they realized that they'd leave money on the table, so expanded to all PC platforms. It's important that Steam is included because of consumer push-back against the Epic Games Store, especially with something as hotly anticipated as Red Dead Redemption 2.
Red Dead Redemption 2 is coming to the Epic Games Store and the Rockstar Launcher on November 5, and will be a launch title on Google's Stadia platform when it releases in November.
It'll be up on Steam sometime in December.
Pre-orders will open up first on the Rockstar Games Launcher on October 9, and will include some awesome bonuses like two free games and an upgrade to the premium edition.
Rockstar plans to share more info on the PC version on October 8, including spec requirements, screenshots, and more.
Related Tags