Space hotel with artificial gravity, suites & gyms to be ready by 2025
The Von Braun Rotating Space Station to come fully equipped with artificial gravity, suites gyms and more by 2025.

Published Thu, Sep 19 2019 5:06 AM CDT
|
Updated Tue, Nov 3 2020 11:47 AM CST
The Gateway Foundation is certainly an ambitious company, and while you have to respect their ambition there is just some things that might just be out of reach for the foreseeable future.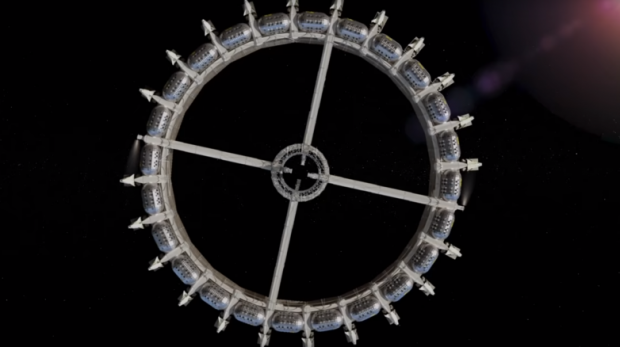 The Gateway Foundation is a company who has designed and plans to build a space hotel that comes fully equipped with artificial gravity, luxurious suites, restaurants, gyms and everything else that 5 star hotels come with. The outer space hotel is titled 'Von Braun' station and is said that it will comfortably house up to 450 people.
The image above is the current design of the hotel, and as you can see the space hotel will be a massive ring. The design choice of a ring is so that it can rotate in space which would then cause gravity to be felt by passengers closer to the outer rim. Tim Alatorre, senior design architect for the company spoke to CNN Travel and said "We're going to have a number of different recreation activities and games that'll highlight the fact that you're able to do things that you can't do on Earth."
He continued and said "Because of the weightlessness and the reduced gravity, you'll be able to jump higher, be able to lift things, be able to run in ways that you can't on Earth."
At the moment The Gateway Foundation has opened up the opportunity for people to purchase memberships for up to $400. This membership will grant patrons emails, discounts on 'events' and entries in Gateway's lottery system that will select members for free trips to the space hotel.
Jumping back into reality now, Gateway has said that this space hotel should be ready by 2025, yes that's right, 2025. Considering the fact that NASA are currently struggling to stay on-track with their Artemis Lunar mission that will only send a few humans to the Moon, I find it extremely hard to believe that by 2025 I'll be picking up a ticket to head to space motel to do triple back-flips in low gravity. It just doesn't seem possible at this stage and with our current range of technology, but I do hope to be wrong because if Gateway can build this space hotel I'm sure it will be widely used.
Related Tags