Evil Rey wields Darth Maul's lightsaber in Rise of Skywalker trailer
Sith Rey brings some dark side thrills with a foldable Darth Maul lightsaber.

Published Mon, Aug 26 2019 2:31 PM CDT
|
Updated Tue, Nov 3 2020 11:47 AM CST
What if Rey turned to the dark side and became a fallen Jedi? Then she'd have a foldable dual-handed lightsaber that'd make Darth Maul jealous and Samsung proud, of course.
Disney just dropped a new Episode IX: Rise of Skywalker teaser, and it shows a dark Sith lord Rey ready for total destruction. The footage shows a murderous Rey in black apparel, armed with a wicked folding red lightsaber, hinting at possible outcomes for the film. Does Rey turn evil, thus killing the Jedi once and for all? If we had to guess this is just one of those nebulous Force trials where Rey has to face off against her evil self--or maybe it's a vision of what could happen if she succumbs to Palpatine's will.
The new footage is very brief but it hints at big things. There's thousands of Star Destroyers in formation for an epic battle, Kylo and Rey duke it out on a floating barge in some faraway world, and even C-3PO gets corrupted. The new Death Star (aka the Starkiller base) might've also gotten resurrected to annihilate Rebel scum.
Star Wars Episode IX: Rise of Skywalker debuts December 20, 2019, and puts an end to the Skywalker saga once and for all.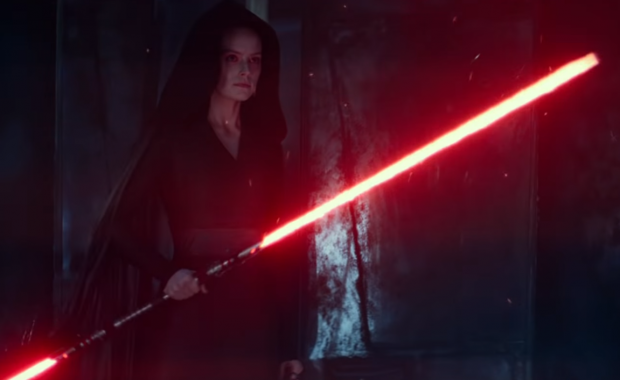 Related Tags