2mm tiny-bots to regenerate your health from the inside out
Some tiny robots have been developed that could have the potential of providing health benefits for humans in the future.
Published Jul 17, 2019 3:00 AM CDT
|
Updated Tue, Nov 3 2020 11:48 AM CST
0 minutes & 54 seconds read time
Perhaps the future of human health benefits will come in the form of tiny robots that assist your health problems from the inside your body.
The above video has been released onto the official Georgia Tech YouTube Channel and showcases what is has been called a "bristle-bot". The bot is only 2mm (about 0.08in) in length, weighs 5mg and can move at about 8mm per second. Not only are the bots, small fast and diversable, but they are made out of lead ziconate titante and have the ability to turn voltage into vibration for movement.
Georgia Tech has developed these bots but at the moment they wouldn't be much benefit to health insitutes as they can only move in one director and can't carry a payload. The end goal of these bots is eventually equipping them with the ability to jump and swim. Once these goals are completed and implemented, we could see these bots being adopted to combat health problems and fix people from inside their bodies out.
Official description:
"Georgia Tech researchers have developed a micro-robot that's almost too small to see. We sized it up with a penny so you can see just how small it is."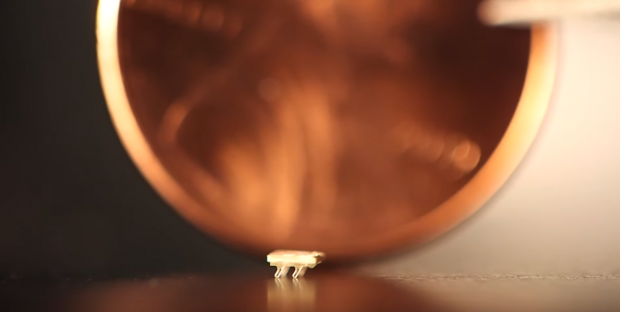 Related Tags