Sony and Microsoft are joining forces to prepare for gaming's big cloud-based evolution.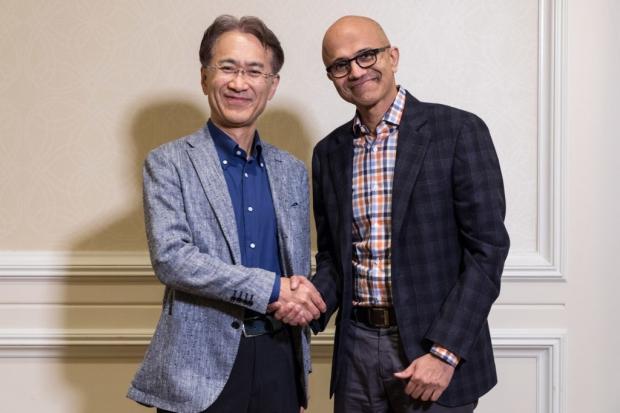 In a move that could change everything, Sony and Microsoft have announced a strategic partnership that should pave the way for next-generation streaming, AI, and cloud-powered services. The agreement sees the two industry titans bringing their own strengths to the table for a kind of mutualistic synergy. Sony will bring its image sensors over so Microsoft can infuse its Azure-powered AI into them, and Microsoft will let Sony experiment with its Azure servers to host services like PlayStation Now and its retinue of online content on.
"Under the memorandum of understanding signed by the parties, the two companies will explore joint development of future cloud solutions in Microsoft Azure to support their respective game and content-streaming services," reads the announcement. "In addition, the two companies will explore the use of current Microsoft Azure datacenter-based solutions for Sony's game and content-streaming services. By working together, the companies aim to deliver more enhanced entertainment experiences for their worldwide customers. These efforts will also include building better development platforms for the content creator community."
Here's a bit more:
"As part of the memorandum of understanding, Sony and Microsoft will also explore collaboration in the areas of semiconductors and AI. For semiconductors, this includes potential joint development of new intelligent image sensor solutions.

"By integrating Sony's cutting-edge image sensors with Microsoft's Azure AI technology in a hybrid manner across cloud and edge, as well as solutions that leverage Sony's semiconductors and Microsoft cloud technology, the companies aim to provide enhanced capabilities for enterprise customers. In terms of AI, the parties will explore incorporation of Microsoft's advanced AI platform and tools in Sony consumer products, to provide highly intuitive and user-friendly AI experiences."
Both Sony and Microsoft understand how important services are for their respective platforms. This understanding should be the main motivation behind the gaming and cloud aspects, whereas the Azure-powered AI experiments will deliver Microsoft guaranteed revenues from Sony's most profitable semiconductor part.
Due to hardware sales dips, a lot of Xbox's earnings come from Xbox LIVE. The platform allows Microsoft to earn consistent and lucrative revenues via game sales, microtransactions, advertisements, and its hugely dynamic ecosystem of subscriptions.
Read Also: PlayStation drives Sony's $78 billion earnings in 2018
Sony's PlayStation Network is likewise lucrative. PS4 hardware sales are just the starting point, even if they're up to 98.6 million worldwide, and its game sales and subscriptions like PlayStation Plus that make the real cashflows. Sony's network isn't so cohesive as Microsoft's insofar as gaming, and the company has been ramping up its services development to complement its next-generation PlayStation 5.
As Google wages war on the console market with its Stadia game streaming service, it's vital that the industry evolves alongside it. Sony was arguably the pioneer in cloud streaming with PlayStation Now, and Microsoft is readying its own Project xCloud service that will beam games to phones, consoles, PCs and laptops.
This partnership could have ramifications to further blur the lines between segregated console markets. We could see more cross-play options open up as a result.
But make no mistake: Sony and Microsoft are still competitors and will actively face off against one another as the industry pushes forward to next-gen systems. It'll compete directly with services via Xbox LIVE and PlayStation Plus, streaming offerings with Project xCloud and PlayStation Now, and with its first-party games development.