Nintendo's annual earnings show just how important the Switch is to its continued success, and further spells the end of its 3DS handheld.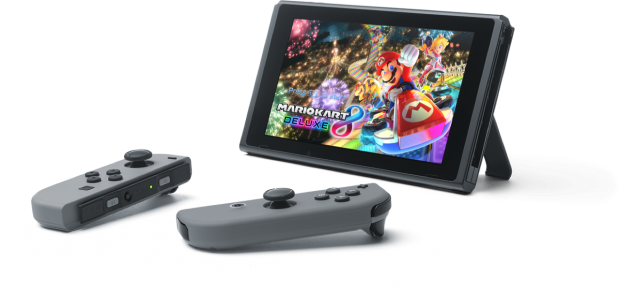 Nintendo's latest FY2019 financial earnings illustrate one key point: the Switch is far and away the company's biggest cash crop. The handheld-console hybrid made up 85% of Nintendo's $10.8 billion in sales revenue during the period, driven by 16.5 million console shipments and titanic sales in games like Super Smash Bros. Ultimate, which grew to 13.81 million. With these numbers, the Switch made nearly as much as the Xbox's entire segment did in 2018.
Worldwide Switch hardware, software, and Switch Online sales pulled in 1.02 trillion yen ($9.26 billion) in the fiscal year ended March 31, 2019, up 36.4% from last year. The 3DS, whose hardware and software sales were down more than half of last year, only made 5.2% of total sales revenue during the period.
Nintendo FY2019 Earnings
Net sales - 1.2 trillion yen ($10.8 billion), up 13.7% YoY
Operating profit - 249.7 billion yen ($2.251 billion), up 40.6% YoY
Total profit - 1.94 billion yen ($1.74 billion), up 39% YoY
Much to Nintendo's delight, digital sees the most substantial growth in FY2019. Digital earnings grew by nearly 200% to $1.07 billion, and total digital sales grew by 86% year-over-year to 118.55 million.
"Digital sales nearly doubled in the fiscal year ended March 2019 compared to the previous fiscal year, and exceeded 100 billion yen for the first time ever," Nintendo President Shuntaro Furukawa said in a recent earnings report.
"The Nintendo Switch business has expanded over the previous year not only in download versions of packaged software, but also in download-only software and add-on content, plus contributions from Nintendo Switch Online."
The Switch now sits at 34.74 million console sales worldwide, with a massive 187.52 million units of software attached. Switch Online paid subscriptions grew to 9.8 million, and about 28% of total Switch owners have bought into the subscription.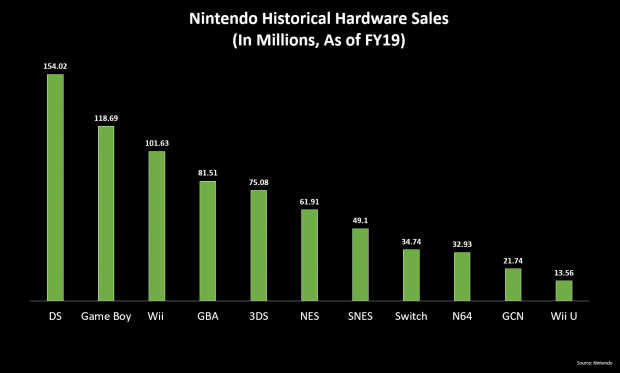 A new Switch may boost earnings even further. Reports say a new cheaper model is on the way, as well as a slightly tweaked base Switch model, but Nintendo said it won't reveal any new variants at E3 2019.
But its financials do give some clues and indications something is coming. Nintendo's research and development expenses have increased 8.8% YoY to 69.28 billion yen, or $627.8 million. Nintendo expects to spend even more on R&D next year: it forecasts a 7.7% rise to 75 billion yen, or $676.28 million.
Based on the slight uptick in net sales in Nintendo's current year guidance, the new Switch could release sometime before April 31, 2020. However Nintendo has been known to be quite conservative with its estimates and this doesn't necessarily indicate much.
Nintendo expects to ship 18 million Switch consoles in the fiscal year ending March 31, 2020.
Earnings guidance is as follows:
Total net sales revenues - 1.25 trillion yen ($11.27 billion), up 4.7% YoY
Operating income - 200 billion yen ($1.80 billion), up 4.1% YoY
Profit - 180 billion yen ($1.62 billion), down 7.7% YoY.