Nintendo won't reveal new Switch at E3 2019
Nintendo president counters sources, analysts, says no new Switch model coming at E3 2019.

Published Thu, Apr 25 2019 2:33 PM CDT
|
Updated Tue, Nov 3 2020 11:48 AM CST
Nintendo keeps throwing analysts off their game; not only did Nintendo miss hardware and software projections laid out by analysts, but now the company is being coy about the new rumored Switch revisions.
At a fiscal year earnings conference in Japan, Nintendo President Shuntaro Furukawa says a new Switch model won't be unveiled at E3 2019. "As a general rule, we're always working on new hardware and we will announce it when we are able to sell it. But we have no plans to announce that at this year's E3 in June," Mr. Furukawa said at the event, as per Bloomberg. This directly counters reports of a cheaper Switch version launching in June, but aligns with the president's previous assurances that a new system isn't happening any time soon.
The company is indeed working on new hardware--as it historically always does, the president says--but no news will be shared until it's ready to hit store shelves. Sources also say that a Switch refresh is on the way with smaller improvements like an OLED panel screen and more battery life, but a more dramatic next-gen hardware leap isn't currently in development.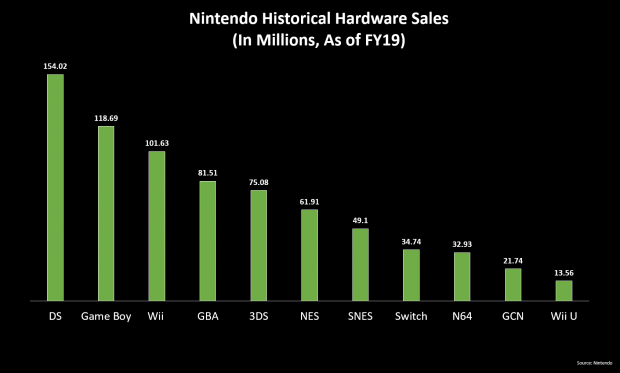 Read more: How Switch stacks up against other Nintendo hardware
Nintendo's cautious approach has disrupted analyst predictions, and as a result, the Switch's performance missed forecasts set forth by industry experts. This led to some disappointment as firms, who thought a cheaper Switch SKU would spark sales past the 17 million units sold in FY19, now studied the conservative company more carefully.
Nintendo's Fiscal Year 2020 guidance embraces more of the same tactics. The company expects to ship 18 million Switch consoles in the fiscal year ending March 2020, up 1 million from last year, and bring the total worldwide hardware sales to 52.74 million.
Software, which is also the biggest boon for Nintendo, is also lower than analysts predict. Nintendo expects to sell 125 million software units throughout the current fiscal year ending in March 2020, or about 28% below analyst targets of 160 million.
Related Tags