DICE unveils Battlefield V roadmap, lots of goodies in 2019
DICE teases a return to the Pacific later this year in Battlefield V.

Published Sun, Mar 24 2019 11:51 PM CDT
|
Updated Tue, Nov 3 2020 11:49 AM CST
EA is ramping up the hype for Battlefield V as the new battle royale mode Firestorm launches today, with a new 2019 roadmap that covers the next two chapters for the game in Tides of War, while teasing a third chapter.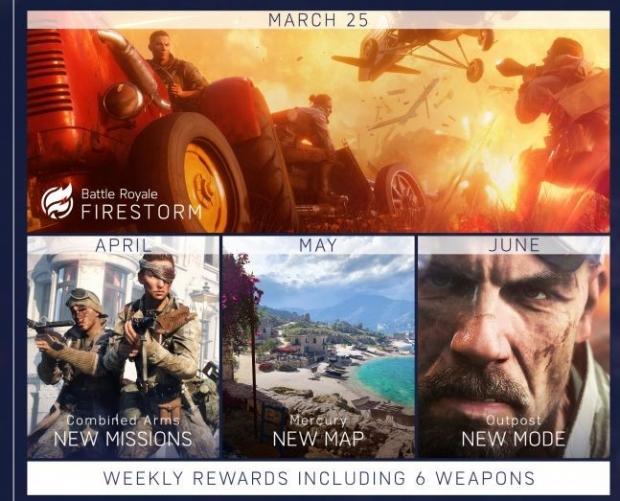 We know that Chapter 3, Trial By Fire launches with the update on March 25 and will pack the new battle royale mode Firestorm, new Combined Arms missions, a new Mediterranean map based on the German airborne invasion of Crete, and a Hardcore mode. But that's just for now, and there are another 3 months between the Trial By Fire and Defying the Odds update in June.
DICE's new Defying the Odds update for Battlefield V will throw up a new multiple mode, and a new map that the developer teases has an "urban design [that] has been sought after by the community and should feel both familiar and fresh at the same time". There will also be a new map called Marita, which will be based on the 1940 invasion of Greece.
Then we'll have Chapter 5 in the fall and it is dubbed Awakening the Giant, giving Battlefield V gamers " land, air, and sea invasion in a completely new theater of war". This should mean Battlefield V will have a future where we'll play in the Japanese entry into the war, which PC Gamer points out the title of the chapter 'Awakening the Giant' is a reference to Japanese admiral Isoroku Yamamoto, who reportedly said after the attack on Pearl Harbor, "I fear all we have done is to awaken a sleeping giant and fill him with a terrible resolve."
Related Tags