Google's new Stadia platform promises a new era accessibility and convenience, but it's not as open as you'd think.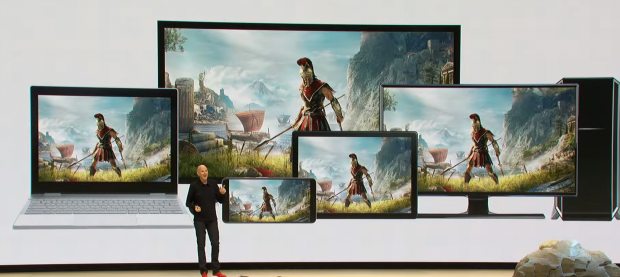 Google hopes to revolutionize the industry with its new Stadia game streaming service. Using powerful AMD-built servers with 10 TFLOPs of compute power, Stadia will beam high-end AAA games to devices that aren't able to run them otherwise such as mobile phones, laptops, desktops, and even TVs. There's no downloads or patches: Stadia can wirelessly serve games natively in Google Chrome. Consumers will even be able to launch games in seconds directly from YouTube videos, or shared Tweets, emails, and Discord chats. But there's some restrictions and requirements outside of a high-end Wi-Fi connection, at least for right now.
Stadia works differently on each device. The Wi-Fi game streaming service currently doesn't work with all Android phones, only Google's newer Pixel models (it may not even work with competing iOS handsets, although Google asserts Stadia will come to iOS and Mac). Game streaming to a Chrome browser is apparently only available for laptops and desktops.
We tried this out during Google's Project Stream testing and found it to be the future of gaming. Mobiles likely need a dedicated Stadia app--or maybe even YouTube--instead of being able to fire up Chrome and launch right into a game.
Everyday consumers who want Stadia games beamed to their television sets will need a Chromecast to receive the transmission. 4K UHDTV owners may need to upgrade to a Chromecast Ultra to play games up to 4K 60FPS such as Doom Eternal.
(Continued below)
Read Also: Google's console-killer Stadia wages war on the industry
These clarifications really lend some transparency to Google's promises with Stadia, and reveal there's still some caveats to the service. We're curious if all of Stadia's features will work the same across mobiles, desktops/laptops, and TVs. Can we expect save state sharing to deliver the same results on all three, or what about the shared links that launch a game, or even firing up a game from a YouTube trailer?
We'll likely get more details in the coming months. After all, Google says Stadia will launch sometime in 2019 across the United States, Canada, the UK and most of Europe.
Here's more info about Stadia:
Game where you want, when you want.

Play across multiple devices, including laptops, desktops, and select phones and tablets.

High speed internet connection required

New ways to play through YouTube and beyond.

Go from watching a video to playing a game in seconds, with even more innovative experiences to come for select games.

Up to 4K HDR at 60 FPS.

Enjoy gaming the way you love, with beautiful HDR graphics and smooth frame rates.

4K HDR at 60 FPS are dependent on your bandwidth. Gameplay experience may vary based on quality of internet connection

Play instantly.

No updates, no downloads. Jump right into the game.

Always getting better.

Stadia's cloud based infrastructure evolves to meet the demands of players, developers, and YouTube creators.