Google's Project Stream is the future of gaming
Google's new Project Stream service brings back accessibility and convenience to the gaming world.

Published Fri, Dec 14 2018 8:41 PM CST
|
Updated Tue, Nov 3 2020 11:50 AM CST
Google's new game streaming service gives us a glimpse at a brighter future of gaming.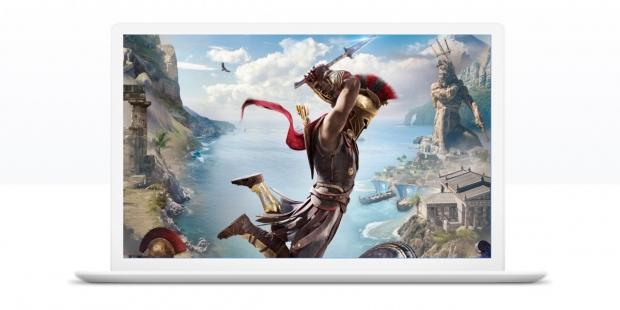 I remember when gaming was convenient. It used to be you bought a game, popped it into your console or PC, and started playing. But today's gaming landscape is fraught with large day one patch downloads, long disc installs, and even more frustrating game downloads. Then there's the required patches for live games like Fallout 76 and Destiny 2 that typically annoy gamers when they fire up the game unawares. The point is there's always something to wait on in gaming these days,
and now that most games have live service elements, there's even more opportunities to spend money.
But Google's new Project Stream service introduced me to a convenient, accessible, and easy-to-use gaming experience that really underlines the potential magic of game streaming. Google's remote cloud servers beam games directly into a Chrome browser on your PC and laptop and let you jump right into the action. We got into the Project Stream beta test for Assassin's Creed: Odyssey, and going into it I was pretty skeptical. But I can say my experience is one of impressed joy. There's no downloads or wait times, no day one patches, just a recreation of that old feeling of popping a game into your system and playing.
I've played about 40 minutes or so of Odyssey on the service so far and didn't experience any real major latency hiccups. Streaming has a lot of roadblocks right now, the principal one being connection issues that interrupt gameplay and spell doom for action-based games like Odyssey or the latest Call of Duty.
The graphics are pretty damn good and the FPS seems quite smooth, and the game doesn't tax your installed graphics card--like everything else, the graphical fidelity is streamed directly to your PC. We haven't sunken our teeth into the meat of the streaming service just yet, but I wanted to express that game streaming, when done right, is a boon for the games industry and should bring a new era of accessibility to gamers that rivals mobile gaming.
There's trade-offs, of course. Convenience always comes at a cost and we still don't know how much Google's experimental Project Stream will be, or whether it'll be monthly or annually. There's also the widespread latency issues. A closed, gated-off technical test is just the beginning and the service likely is months (or even years) away from being ready for widespread release.
I'm also thinking Project Stream will tie into Google's plans for a dedicated video games console...
But if Google is able recreate the ultimate convenience-meets-performance ratio on a worldwide scale, it could very well bring in a new age of video games and transform the market. Microsoft, EA, and even Ubisoft are all experimenting with their own streaming services, and Sony has been ahead of the game with PlayStation Now for a while.
It's only here have I really been super impressed with the overall gameplay experience that streaming can offer, and I hope to see this technology evolve over time.
Related Tags