Mortal Kombat 11 engine uses custom Unreal Engine 3, not 4
Mortal Kombat 11 surprisingly uses a custom Unreal Engine 3 engine and not Unreal Engine 4.
Published Mar 7, 2019 3:00 AM CST
|
Updated Tue, Nov 3 2020 11:49 AM CST
0 minutes & 57 seconds read time
Mortal Kombat 11 has swamped the gaming news sector, as NetherRealm Studio's gears up for the release of the next title in their iconic franchise a confirmed to what engine the game will be running on has been announced.
While Mortal Kombat 11 looks undoubtedly gorgeous on screem, the initial guess would that it is running the most recent version of Epic Games' Unreal Engine, Unreal Engine 4. That guess would be in-fact wrong, as NetherRealm Studios Programming Lead, Jon Greenberg has confirmed on Twitter that the title actually uses a custom Unreal Engine 3 that has been specifically modified by NetherRealm. Greenberg continues and explains that the engine that they are using is "radically different from Epic's at this pt (point)".
Greenberg continues to respond to fans in the Twitter thread that the reasoning for the game still using Unreal Engine 3 is because this allowed the developers to start work on Mortal Kombat 11 straight after the release of Injustice 2. If the transition from Unreal Engine 3 to Unreal Engine 4 was made there would have to of been rebuilding of what is described as "years and years worth of stuff". Greenberg also touches on the fact that MK Mobile uses Unreal Engine 4 and that the developers for both games are interchangeable . Mortal Kombat 11 will be released on the 23rd of April for the Nintendo Switch, PlayStation 4, Xbox One, PC. For more information, visit the official Mortal Kombat 11 website here.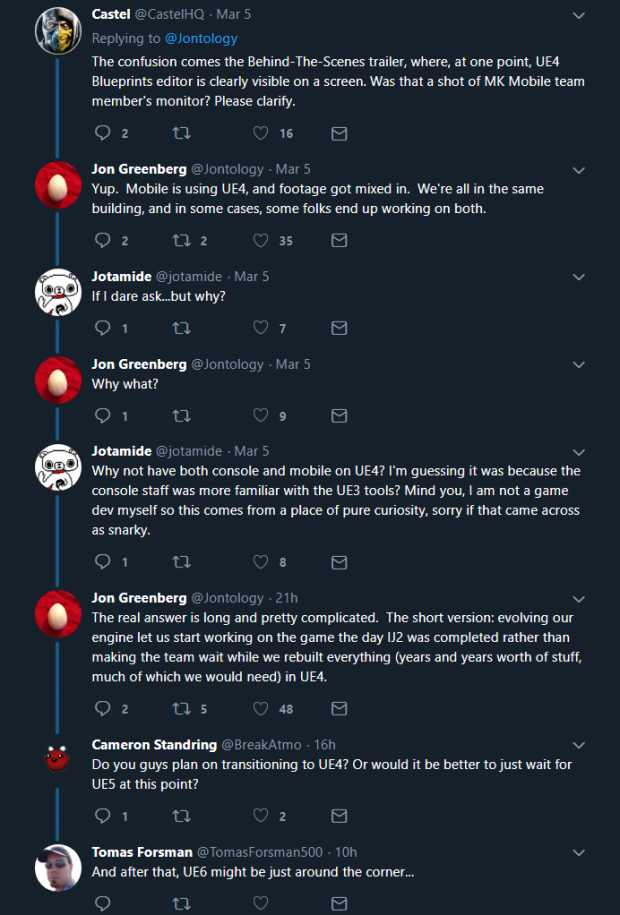 Related Tags