Switch gets Saints Row: The Third's 'Full Package' on May 10
Deep Silver will be bringing Saints Row: The Third - The Full Package to the Nintendo Switch on the 10th of May.

Published Tue, Feb 26 2019 1:00 AM CST
|
Updated Tue, Nov 3 2020 11:49 AM CST
Sometimes its just fun to jump into a sandbox title and quite literally just start reaping havoc upon its occupants, and what better title to do that in than Saints Row: The Third - The Full Package?
Deep Silver have taken to their official Twitter account to announce that Saints Row: The Third will be arriving on the Nintendo's handheld console with its "Full Package". Deep Silver will be bringing the game over to the Switch with a slew of downloadable content for players to enjoy, in-fact all of the post-DLC content that was released for the title will be included within the Nintendo Switch version.
What can you do in Saints Row: The Third? Well, I think a better question would be what can't you do. Players will be able to disrupt numerous crime mobs in a variety of unorthodox ways; riding hover jets, whacking them with human size sex toys, over the top destruction and much more. There will also be co-op mode added as well, so Switch players can double the strange level of fun if they so desire. Switch players will be able to jump into the action of the City of Steelport on the 10th of May this year.
Over The Top - Like a lapdance from a porn star, the action is naughty, fun, and better than anything you're getting at home.
City of Sin - Disrupt and dismantle the Syndicate stranglehold on weapons, cybercrime, and sex trades. Discover the secrets of Steelport, where there is action on every street corner, for better or, more likely, worse.
Weapons of Crass Destruction - It's one thing to defeat your enemies. It's another to humiliate them. Hover jets, human cannonball cars and sex-toy warfare are all part of the fun.
Co-op Madness - Give naked skydiving a try, landing in your partner's flaming pickup as you make a suicide run toward a heavily armed Syndicate brothel. Steelport is more fun with a friend.
Initiation Station - Create, share, and download the most outlandish characters every seen, from washed-up celebrities to naked ninja pirates. Inside every sinner, there is a Saint.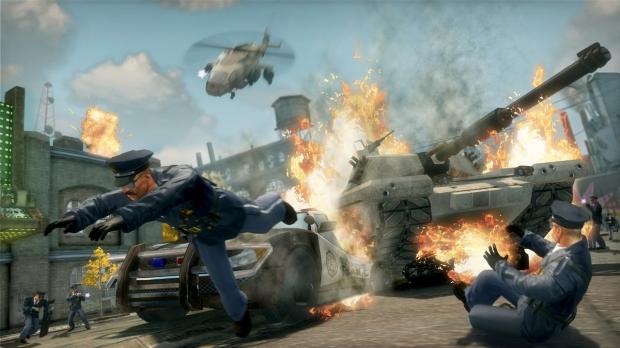 Related Tags