GameStop won't sell, stock plummets 27%
GameStop scraps plans to sell the company, causing stock to dive to lowest point in 14 years.

Published Tue, Jan 29 2019 4:11 PM CST
|
Updated Mon, Dec 28 2020 12:59 PM CST
GameStop's board of directors no longer plans to sell the company to a third-party, the games retailer today announced.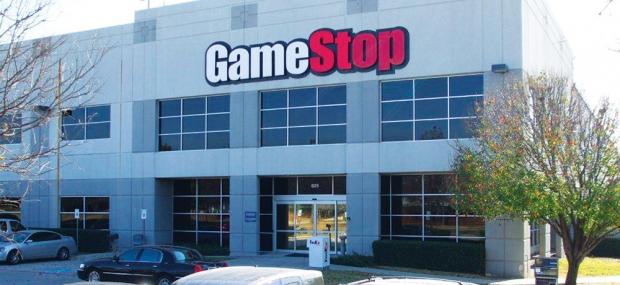 The future of GameStop remains uncertain. Sales were down slightly by 5% during the holiday season and the company is actively searching for ways to offset its $800 million debt and losses. Pressure is mounting as digital gaming puts a dent in resale and trade-ins, which is a trend that pleases publishers. Without a CEO, the retailer is essentially operating the current industry landscape without a head. GameStop's board bought some time by selling its Spring Mobile business for over $70 million, but there's no other pieces to sell, only the whole pie.
Now GameStop's board announced it won't be selling the company because favorable terms couldn't be reached. The news caused company shares to plummet by over 27% to $11.28 per share, the lowest it's been since 2005.
"In June 2018, GameStop's Board, together with outside financial and legal advisors, commenced a review of a wide range of alternatives to enhance shareholder value," the company wrote on its investor relations page.
"The Board undertook a comprehensive review process, including discussions with third parties regarding a potential sale of the company. GameStop's Board has now terminated efforts to pursue a sale of the company due to the lack of available financing on terms that would be commercially acceptable to a prospective acquiror."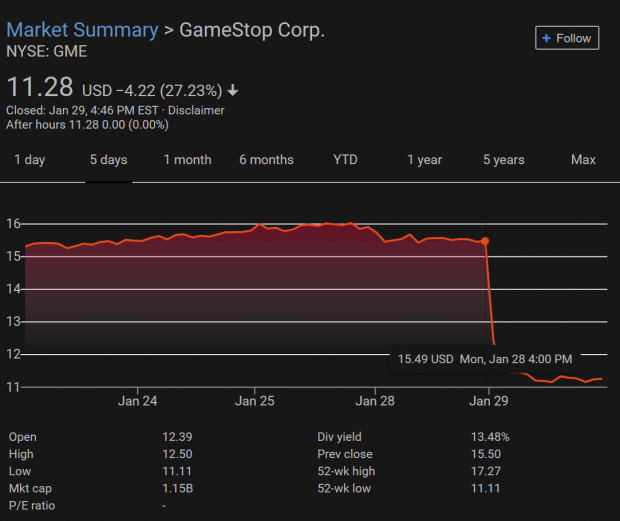 GameStop Holiday 2018 performance:
New hardware sales decreased 6.1%, as a result of the successful Xbox One X launch in the 2017 holiday period, partially offset by strong growth in Nintendo Switch sales.

Sales of new video game software decreased 8.3%, driven primarily by the difference in launch timing of Activision's Call of Duty: Black Ops 4 which released in October 2018, compared to Call of Duty: WWII which released in November 2017.

Pre-owned sales declined 16.4% reflecting declines in software and hardware.

Video game accessories sales grew 28.7% on the continued strength of controller and headset sales.

Collectibles sales increased 3.7% to $219.2 million. The sales growth was constrained by significantly lower promotional activity in fiscal 2018 in an effort to better manage gross margin rate.

Digital receipts increased 16.8% to $352.9 million driven primarily by strength in sales of digital currency.

Technology Brands sales, which are not included in comparable store sales, decreased 19.3%, driven by a decrease in store count and store traffic.
Related Tags