New Kingdom Hearts III video brings gameplay to life
Square Enix has fleshed out in a new video what players will experience gameplay wise in Kingdom Hearts III.
Published Jan 25, 2019 4:00 AM CST
|
Updated Tue, Nov 3 2020 11:49 AM CST
1 minute & 18 seconds read time
Thinking of picking up Kingdom Hearts III? Personally, I'd recommend it to anyone that is a gamer and a Disney fan. For those that are still unsure, Square Enix has released a new video giving some more details about the coming title.
The above video has been released onto the official Kingdom Hearts YouTube Channel, and is an explanation to what players that pick up Kingdom Hearts III will receive gameplay wise. As Sora travels the different Disney universes and encounters a variety of foes, combat will obviously be required for progression, and there is no better place to start than with Sora's keyblades. It is explained in the video that Sora will for the first time be able to carry multiple keyblades, and be able to swap between them throughout battle. Each world offers a unique keyblade based on the themes of that respective world.
Players will be able to use "Link" to harness the power of Disney characters and summon them into battle to fight alongside you. Players will be able to do team up attacks with each of the summoned Disney characters as well. The same principal is applied to "attractions" which are classic rides that Sora will be able to use throughout battle, Sora will summon a ride, mount it, and perform devastating damage. Sora also has the ability to wield magic and can learn a variety of elemental skills as he progresses the game.
All in all, Kingdom Hearts III has a big selection of gameplay candy for everyone, and as I said above, if you enjoy Disney movies and like some fun nostalgia riddled gameplay. With a hero fueled - save the universe - story, pick up a copy of Kingdom Hearts III. Kingdom Hearts III releases on the Xbox One, PS4 and PC on January 29th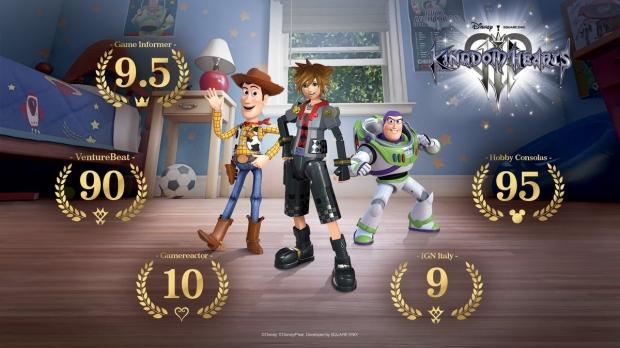 Related Tags