Next-gen Xbox backward compatibility likely
Microsoft's gaming head Phil Spencer talks up backward compatibility, hinting it'll be a major feature of the next Xbox systems.

Published Thu, Jan 10 2019 11:16 AM CST
|
Updated Tue, Nov 3 2020 11:49 AM CST
Xbox Scarlett should natively play existing Xbox One and even Xbox 360 games when it ships.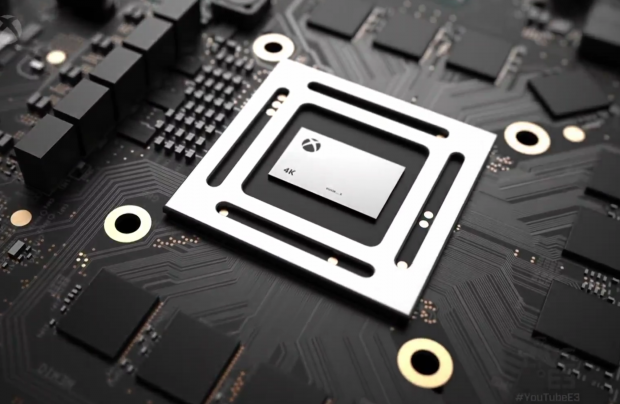 Backward compatibility is one of the shining features of the Xbox One family of hardware. Microsoft has banked hard on this achievement to one-up Sony's lack of native PS3 game playback and it'd be foolish to not continue the trend with its new line of consoles. I've already talked about how backward compatibility could work on Scarlett--think of forward compatibility game patches similar to the Xbox One X Enhanced program--but now Microsoft adds even more credence to our predictions.
At CES 2019, Microsoft gaming head Phil Spencer went on stage during AMD's keynote to tease the next-gen Xbox platform. While specifics were light, Spencer and AMD CEO Dr. Lisa Su put emphasis on the Xbox One X's native backward compatibility and scaling features, re-iterating how much work went into the feature.
"Our collaboration has been key in the Xbox One X's power. But even more in depth in the way our teams work together, one of the key features for us was backward compatibility. The fact that today's Xbox One console can play games from the 360 generation and even the original Xbox gen...which required work at the silicon level to make sure it worked," Spencer said.
"It was a lot of work, Phil. Just saying," Lisa Su said. "We are really, really proud of our work together on Xbox."
"But not only does it play those games, it actually plays those games better than the original console. That's due to the great partnership that we have," Spencer continued.
Spencer's and Su's words give us some visibility into Microsoft's gaming future, namely the next Xbox. Nothing has been confirmed outright but I doubt that both AMD and Microsoft would scrap all the work and progress they've made with the Xbox One S and Xbox One X only to start over from scratch. That's not how the console games industry works any more, and it's certainly not how Microsoft works.
The company has expanded into a wide webwork of cross-platform services and hardware, using Xbox LIVE to merge Xbox consoles and Windows 10 PCs together. Game Pass, backwards compatibility, Xbox LIVE integration, and other engagement features are the glue that holds everything together, and the hardware provides a strong powerhouse for titanic AAA first-party games to tap and deliver higher-end console performance.
It's likely that the entire Scarlett family will be backward compatible right out of the gate.
This could imply a more iterative approach to hardware or at least software support, but one that's massively scaled, customized and fine-tuned to play nicely with previous games built for older architectures but also tap the power of new ones.
But that doesn't necessarily mean the new Scarlett systems will be held back because they support older games.
Sources say that Microsoft will release a spectrum of next-gen Xbox hardware, including a mid-grade and enthusiast console similar to the Xbox One S and Xbox One X. These systems are codenamed Lockhart (mid-tier) and Anaconda (high-end), and are believed to use AMD's new Zen 2 CPU architecture as well as a customized Navi GPU for improved 1080p and 4K gaming.
The systems are expected to release sometime in 2020, and Microsoft could tease or even unveil the hardware at E3 2019.
Related Tags