Battlefront II to last throughout 2019
Battlefront II to carry Star Wars torch throughout 2019, where it will likely pass it on to Respawn's Jedi: Fallen Order.

Published Mon, Dec 17 2018 4:04 PM CST
|
Updated Tue, Nov 3 2020 11:49 AM CST
DICE and EA plan to support Battlefront II well into 2019 with new updates and content rollouts.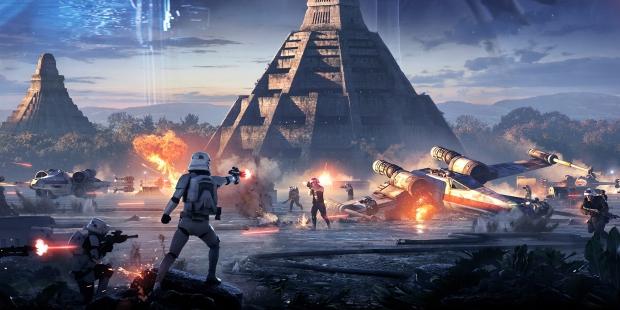 Despite being born in controversy, Battlefront II has enjoyed a long life as a service game and will continue to unfold throughout next year. DICE recently outlined some of the new content coming to Battlefront II, affirming the game isn't going to die out any time soon.
"We're truly excited about our plans for 2019. 2019 will kick off by introducing Count Dooku, Anakin Skywalker, more clone trooper Appearances, and a new mode featuring command posts and capital ship takedowns. Continuing beyond, we're working to bring even more content and experiences to Star Wars Battlefront II," the post reads.
Battlefront II's evolution was made out of necessity, however. Since Visceral was closed down and its ambitious Star Wars game has been cannibalized into a new unnamed project, 2018 had no actual Star Wars release. The original timeline went like this: Battlefront II was set for 2017, Visceral's Project Ragtag in 2018, and Respawn's new Jedi: Fallen Order game for 2019. So without Visceral's game, EA and DICE had to stretch Battlefront II across the wider gap between releases.
We could see Battlefront II slow down once Respawn's big new third-person action-adventure game Jedi: Fallen Order releases in 2019.
Remember that DICE is working alongside multiple studios on the new projects, as EA's internal development teams are all part of a group collaborative effort that use DICE's Frostbite engine, so it's interesting that the content and updates haven't slowed to a crawl just yet. Each live game has a separate live team that handles operations, though, and core development teams are busily crafting new experiences.
Let's hope EA's dev teams have learned important lessons from Battlefront II, especially since live elements are likely to bleed into future Star Wars titles.
Related Tags