Beyond Good and Evil 2 is all about being a space pirate
Beyond Good and Evil 2 is Ubisoft's big online space cowboy game.
Published Dec 11, 2018 5:41 PM CST
|
Updated Tue, Nov 3 2020 11:50 AM CST
2 minutes & 43 seconds read time
Ubisoft wants to make you feel like a space pirate in it's massive new online sci-fantasy game Beyond Good and Evil 2.
From what I've seen so far Beyond Good and Evil 2 looks to be Ubisoft's biggest game to date. Its scope is incredibly ambitious and aims to take on a GTA Online-meets-No-Man's-Sky type of feel with online multiplayer elements thrown in for good measure. Cities, planets, and even whole systems are scaled into massively explorable areas filled with loot, dogfighting carnage, action-based combat, and story missions--all wrapped in a specific sci-fantasy style. It's undoubtedly going to be a monumental undertaking to achieve this grand vision, but Ubisoft is doing their best to make you feel like a space pirate.
To explain what this actually means, Ubisoft released a big 26-minute Beyond Good and Evil 2 gameplay demo with lots of juicy tidbits. The game has a custom character creator and each space pirate captain has some nifty tech to use in combat or exploration: an old-school-meets-high-tech gun, a sword, and a jetpack to zoom around across the vertical areas. You also get a fancy spyglass to scan your environments for treasures and your enemies for weaknesses, adding a nice tactical flair to the mix.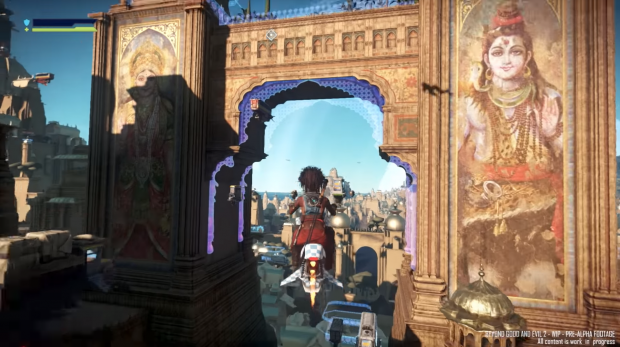 "Everyone is playing their own character. That's very important to us. Everyone can customize and create their own character and create your own path. What we want players to live in BGE2 is the space pirate fantasy. We want you to live the life of a space pirate," said BGE2's senior producer Guillaume Brunier.
"To make sure we deliver this, we've defined what for us defines a space pirate. So for us, a space pirate captain has a gun so he can shoot, he or she has a sword for close combat fighting, and a jetpack. These are the basic abilities you'll be using with your character."
Being a pirate is all about freedom and rebellion. Brunier says that players are pushing back against the established galactic order, a kind of intergalactic iron curtain that weighs down the interstellar masses.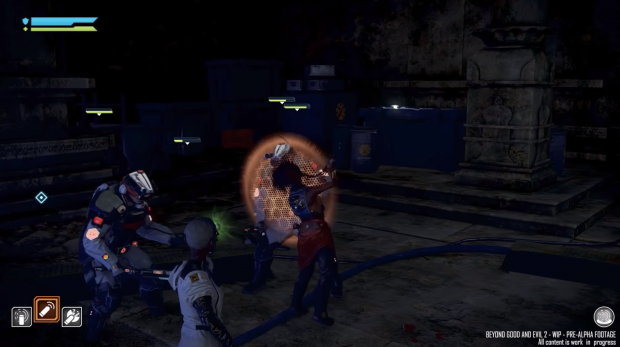 Your guns and sword can be powered up via augments, which add boosts like elemental affinities and other properties. Your character can even be buffed with augments, too. But these aren't just bonuses--they can be synergized with one another to create some interesting character builds. One augment launches a nifty dome that slows down enemies within it, another can stagger them with a shockwave.
"You can combine them to create a specific deck," says associate creative director Emile Morel.
"We want the game to carry a strong feeling of adventure. We've got some progression, we've got some mystery, we've got some weird stuff happening," Brunier says.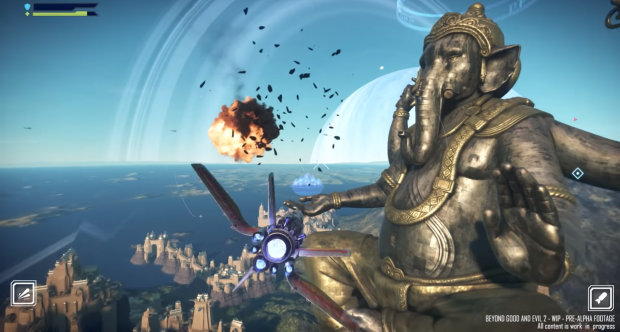 The demo really uncovers so much info about the game that it's hard to completely break down here, so be sure to give it a watch. We're betting Ubisoft is investing tremendously into Beyond Good and Evil 2, and that it'll be the company's biggest live game to date insofar as scope and ambition.
Of course no online game from Ubisoft would be complete without monetization. It's too early to tell how the game will be monetized, but I'm thinking some sort of augment microtransactions will be thrown in, ditto for cosmetics. Maybe we'll even see a paid expansion or two.
Beyond Good and Evil 2 still doesn't have a release date and is in pre-alpha stages of development. We expected it to launch in 2021 or thereabouts to coincide with the uprising of Sony's and Microsoft's respective next-gen consoles.
Related Tags