Beyond Good and Evil 2 looks incredibly ambitious, and should be a dream game for Ubisoft.
Ubisoft's business model focuses heavily on engagement, and all of its games have live services. Beyond Good and Evil 2 will be no exception: everything we've seen so far shows it was built from the ground up as a online live service game with tons of monetization opportunities and engagement hooks. The sci-fi RPG's galactic scope rivals some of the biggest names in the industry and looks to be a cross between No Man's Sky's exploration and feel with Grand Theft Auto's open-ended chaos, all wrapped together with a unique visual style. After all, Ubisoft describes it as a "seamless online playground" that's designed to be explored alone or with friends.
It's been a while since we saw Beyond Good and Evil 2 in action--it was formally announced at E3 2017 with an amazing trailer--the devs showed off some new pre-alpha gameplay to whet our appetites. No release date was confirmed (maybe expect a 2019 or 2020 release) but we did get some interesting tidbits, including ship augments and a true idea of just how big the game is.
Ubisoft makes it clear that Beyond Good and Evil 2 is a space juggernaut with a tiered size structure: planets house huge, sprawling cities infused with high-tech ethnic flair, and big systems house the planets themselves in coordinated star charts, and the systems are parts of a galaxy--not unlike No Man's Sky.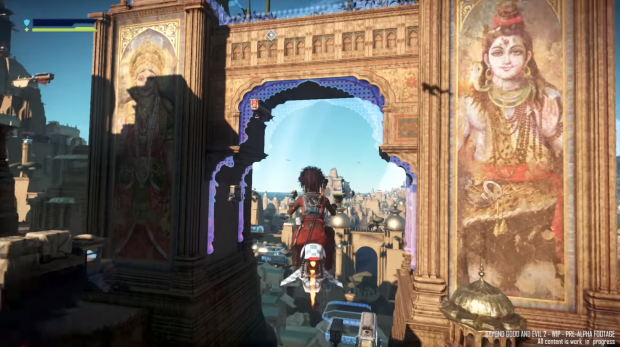 Players can fly through cities on ships or hovercrafts, bringing to mind a sense of Anthem's vertical freedoms. The cities are bustling with aircraft and signs of life, merging sci-fi and fantasy together in a colorful way--but it remains to be seen how dynamic and reactive these environments actually are.
The ship-to-ship combat reminds me of a high-tech Star Fox game and genuinely looks quite fun, bringing to mind Star Wars: Battlefront II's dogfighting. Everything on your ship can be upgraded and customized including its arsenal.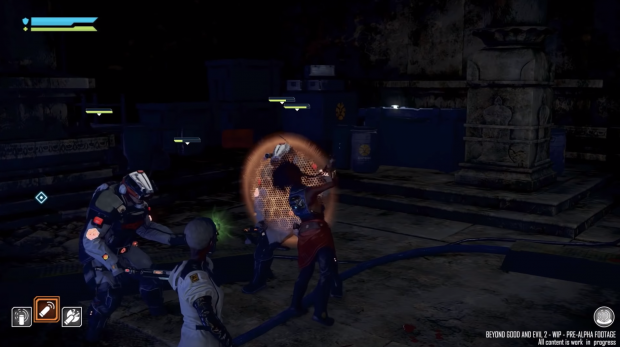 The studio also gives an idea of how the game will be monetized. I expect Beyond Good and Evil 2 will be a buy-to-play game, meaning no subscriptions and extra content will be funded via microtransactions, as per Ubisoft's usual model.
Aircraft can be customized in various ways, many of which should be monetized--including the cosmetic options:
"You'll also be able to fully customize your own rides, swapping out modules, wings, engines, equipment, and cosmetic options to tailor your machines to look good and hold their own in a fight."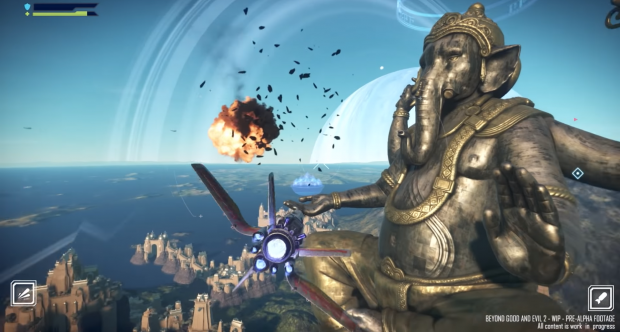 Players will also be able to scout planet surfaces with the spyglass mechanic, essentially transforming the space romp into a kind of intergalactic treasure hunt. It's here that we see the long-term engagement potential as gamers will spend lots of time scouring planets for secrets, items, upgrades, quests and other content, not unlike a space-themed Assassin's Creed of yore.
We could also expect paid expansions to accompany the microtransactions, as well as a multi-year timeline of updates. Whatever Ubisoft has planned for this game, it's clear they're investing considerable efforts to make it happen.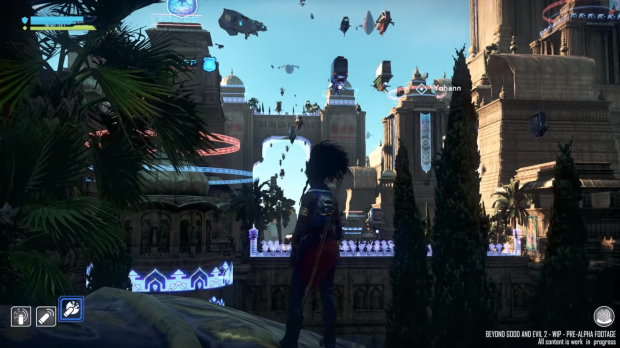 We still have no clue when Beyond Good and Evil 2 will release, but based on the slow progress, I say expect it during the next-generation of consoles sometime in 2021 or thereabouts.
For even more info on the game, check the official developer livestream below along with key info:
Journey to System 3, for the prequel to one of Ubisoft's most beloved games! Fight alongside unforgettable characters in a stunning new solar system, as you struggle for freedom and the right to determine your own fate among the stars. Play the adventure by yourself or with friends in a vast and seamless online playground.

Beyond Good and Evil 2 is the spiritual successor to the cult classic, a prequel that will transport players into a profoundly multicultural world, capturing the spirit of the original with grandiose decors and intense dramas that play out across a vast universe. Through the Space Monkey Program, Ubisoft Montpellier will be developing the game alongside its community of fans.

System 3 has become the center of interstellar trade and colonization in the Milky Way of the 24th century, thanks to the creation of Hybrid slaves. While private enterprises fight over resources and power, the first colonists weave together the rich and diverse spiritual and cultural heritages of Old Earth to give meaning to their existence. In this new era of piracy, we will rise from lowly pirate to legendary captain at the helm of massive star-faring vessels, adventuring alongside crews of colorful characters to fight for freedom and the right to determine our own fate among the stars!