ARK: Survival Evolved Nintendo Switch release, November 30
Nintendo Switch owners will have the opportunity to tame some dinosaurs in ARK: Survival Evolved, November 30 release.

Published Mon, Oct 29 2018 1:00 AM CDT
|
Updated Tue, Nov 3 2020 11:50 AM CST
A recent Twitter announcement from the ARK Twitter account has revealed the Nintendo Switch release date for ARK: Survival Evolved.
ARK: Survival Evolved developer, Studio Wildcard will be debuting the dinosaur taming title to the Nintendo Switch this November. In wake of the announcement, a Nintendo Switch trailer has been released onto the ARK YouTube Channel, the trailer shows a man represented as the player waking up on the island and constructing weapons, buildings and attempting to hunt dinosaurs.
We also get a quick look at some gameplay of ARK on the handheld console, we see the player fighting off a T-Rex, swimming underwater battling a shark, small villages, dinosaur riding and more. ARK: Survival Evolved is planned for release on the Nintendo Switch November 30. Within the entirety of this post is a short description of ARK: Survival Evolved, for more information about the title, visit the ARK website here.
Game description:
"ARK: Survival Evolved is launching worldwide for Nintendo Switch on November 30th! Get ready to tame dinosaurs, conquer enemies and create enormous structures anywhere - on the couch, in bed, on a bus or even at school. Stranded on a mysterious prehistoric island, you must explore its vast biomes as you begin to hunt, harvest, craft tools, grow crops and build shelters to survive. Use cunning and skill to kill, tame, breed, and even ride Dinosaurs and other primitive beasts living on The ARK. Advance your technology from primitive stone tools to T-Rex-mounted laser cannons, as you team up with hundreds of players online or enjoy a solo Jurassic experience. The adventure starts now -- for more information visit playark.com"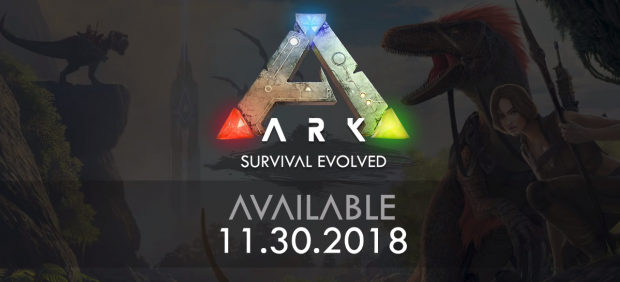 Related Tags